English
QR Art of Mr D, a Tribute to the Late Queen Elizabeth II
Minggu, 18 September 2022 - 18:28 | 21.16k
TIMESINDONESIA, MALANG – To Honor the death of Queen Elizabeth II, Mr D a local Indonesian musician which was well known with his music made a QR Art. This work of art will complete all his work of collection.
As you all know, Queen Elizabeth II was the queen of United kingdom that had been passed away several days ago. The queen dies in 96 year old after celebrating her 70th Jubilee of ruling the country.
As for now, the London Bridge protocol has been run for her before her funeral ceremony. Her body was planned to be buried in Monday (19/9/2022). And the service will be attended by several leader across the world.
And for this, Mr D create a special edition of QR Art for the queen. "I believe there hasn't been any Queen Elizabeth QR Art which resemble to this one. Meanwhile, I have my traditional analog QR Art for the next exhibition," Mr D said on Friday (16/9/2022).
Mr D also said that this QR Art is one true dedication for the queen to memorize her kindness, work, and her being a role model for all this time."As Longa Vita Brevis, skill needs time and life is short" as he quote a Greek saying.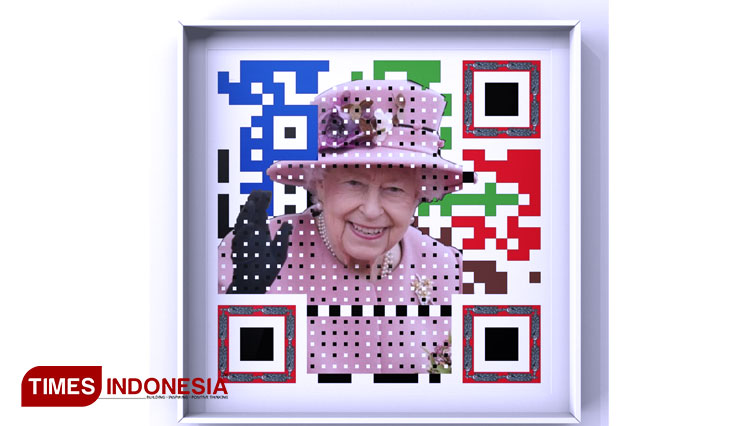 The special the QR Art was that by scanning it, you will find related topic about Queen Elizabeth. "Let's think of her having a long nap because her article will stay and memorized. She was just having a long slumber," Mr D added.
"When people lost their popularity when they died, it's not the same with the queen. And in my perspective, she is still alive," the guy added.
In addition, Mr D designed the QR Art for the queen in queen's most favorite colors, shocking blue and green. He also said that it still need some retouch to make it more dynamic and artistic.
This special QR Art will help people to find out the latest news about the queen even after she died. This will be a great innovation to ease everyone in this world looking for Queen Elizabeth II latest news.
As we all know, QR Art has become a part of modern life nowadays. People used them in their daily activities. It a form of payment, a form of gate that connects some people to what they need. And as in this case the QR Art by Mr D connects the latest news about the late Queen Elizabeth II.
**) Dapatkan update informasi pilihan setiap hari dari TIMES Indonesia dengan bergabung di Grup Telegram TI Update. Caranya, klik link ini dan join. Pastikan Anda telah menginstal aplikasi Telegram di HP.
---
---
---