English
Celebrating Indonesia's Independence Through Culinary Diversity with IWA Restaurant in Hotel Tugu Bali
Minggu, 21 Agustus 2022 - 00:13 | 16.34k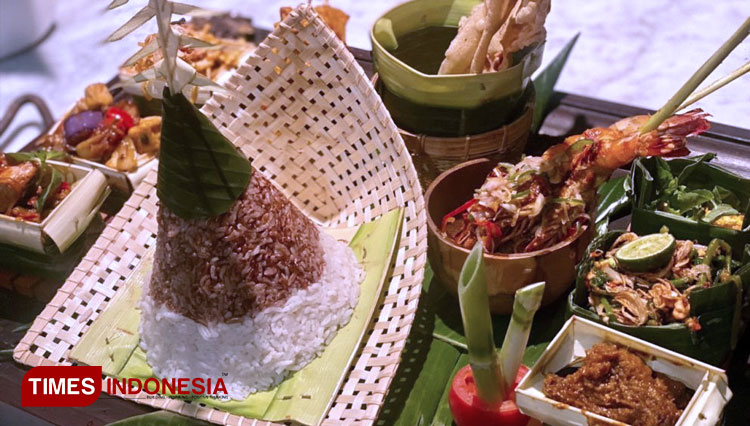 TIMESINDONESIA, BALI – Derived from the 14th century Balinese legend of Kebo Iwa, a powerful giant of Bali who was known for his love of food as well as his threat to the Majapahit kingdom, IWA Restaurant at Hotel Tugu Bali is an award-winning restaurant that features an extensive menu of authentic Indonesian cuisine made with passed-down recipes done with a contemporary approach. Located in Bali's hip destination for culinary aficionados, Canggu, IWA opens its doors every day from 7 a.m. to 10.30 p.m for breakfasts, lunches and dinners.
August has always been a significant month for Indonesians, as it is the month that commemorates Indonesia's declaration of independence from the colonizers. In celebration of Indonesia's 77th Independence, IWA Restaurant invites diners to embark on a culinary journey across the Indonesian archipelago with the launch of Nasi Tumpeng Merah Putih, a.k.a. Nasi Tumpeng Bambu Runcing.
Nasi Tumpeng is a traditional Indonesian celebratory dish consisting of a large cone of rice surrounded by assorted vegetables, meat, and side dishes. The rice is shaped like a cone to represent the country's mountainous terrain, the pointed tip of the cone represents devotion to God, and the surrounding dishes symbolize the country's vegetation, forests, and wildlife. As this month is dedicated to Indonesia, IWA's tumpeng features the archipelago's dishes that trail the various provinces in Indonesia, from Sabang in North Sumatra all the way to Merauke in Papua to take you on a gastronomic journey through Indonesian cuisine and to celebrate its diversity.
One set of Nasi Tumpeng Merah Putih is a set for two persons that include a cone of rice made from Balinese pandanus rice & red accompanied with various assorted sumptuous dishes includes Ikan Cakalang Garo Rica Mando from North Sulawesi, Udang Bakar Jimbaran Sambal Matah, Sate Tahu Tempe Bumbu Madura from East Java, Rendang Padang from West Sumatera, Tahu Terong Khas Sunda from West Java, and 3 other dishes completed with Indonesia's condiment -Sambal Nusantara and Rempeyek Tugu; closed with alternating Indonesian desserts.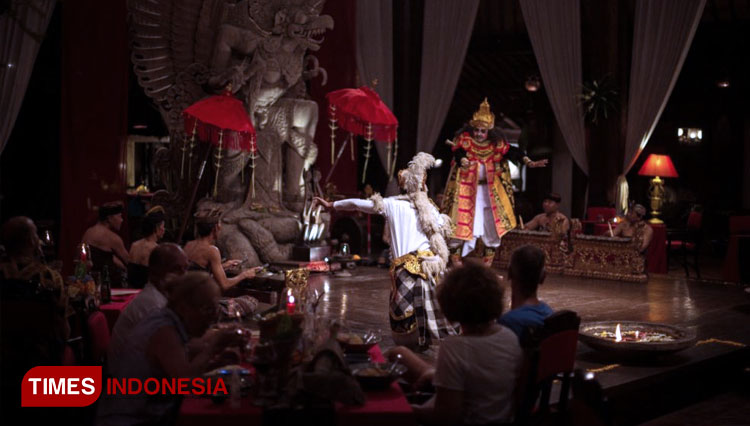 This special Nasi Tumpeng is also known as Nasi Tumpeng Bambu Runcing with the existence of bambu runcing (sharpened bamboo) on the platter – symbolizing the simple weapons used by Indonesian courageous warriors during the hundreds years old battle with the fully armed-colonial soldiers before its independence in 1945.
In addition to the culinary adventure, IWA Restaurant has recently brought back its renowned cultural evening, complete with performances of live classical Balinese dance and music, played by artists in the traditional costumes of the early 20th century. The magical evening is held every Thursday at the majestic Bale Agung at 7.30 p.m.
Intended to revive and preserve Bali's almost forgotten culture, many kinds of dances have been performed, such as the narrative of the ancient Indian epic, the Ramayana; Hanoman & Rahwana, which tells the adventure of Hanoman and Prince Rama during the heroic battle against Rahwana and his forces when trying to save Princess Sinta; the Calon Arang dance-drama that is based on the legend of Rangda (Calon Arang), with her struggle against the great king Airlangga; the Baris Dance, which is a traditional war dance in Bali that portrays the emotions of a young warrior prior to battle; and many more performances to be named.
Indulge in the real experience of the cuisine and culture of Indonesia at IWA Restaurant and watch century-old Balinese dancers and live gamelan on the stage of the majestic Bale Agung, a gigantic hall with very high ceilings supported by giant wooden columns and an ancient architecture based on the now-extinct sacred hall of Bayung Gede village, filled with antiques and cultural relics.
* No cover charge with dinner
If you need further information and reservation, feel free to contact Hotel Tugu Bali - (0361) 4731701 , and IWA Restaurant - +62 812-3677-8361, or through direct message to @hoteltugu_bali dan @iwarestaurantbali . (*)
**) Dapatkan update informasi pilihan setiap hari dari TIMES Indonesia dengan bergabung di Grup Telegram TI Update. Caranya, klik link ini dan join. Pastikan Anda telah menginstal aplikasi Telegram di HP.
---
---
| | |
| --- | --- |
| Publisher | : Sofyan Saqi Futaki |
---