English
Voca Erudita of UNS Won Tokyo International Choir Competition
Jumat, 12 Agustus 2022 - 06:25 | 49.21k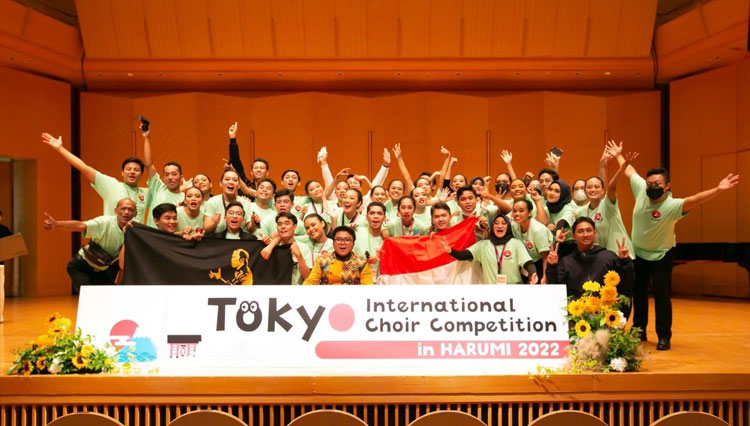 TIMESINDONESIA, SOLO – The Voca Erudita Student Choir of UNS (Sebelas Maret University of Surakarta) managed to bring Indonesia's great name into the international level. The group went home with a gold medal from the 4th Tokyo International Choir Competition (TICC) 2022.
This student choir performed well in three categories: Mixed Choir, Contemporary Music, and Folklore Song. The jaw dropping moment was when they could wipe out the championship title from each type of competition they participated in.
Mixed Choir Compulsory Song "Aki Kaze Ni" performed by Voca Erudita Student Choir. (Photo: Doc. TICC_Tokyo/Instagram)
Special for TICC 2022, the committee also gave awards to the participants who could provide the best interpretation of the mandatory song. Three of them have won by Voca Erudita student choice, those awards are:
1. Best Interpretation of Mixed Choir Compulsory Song "Aki Kaze Ni",
2. Best Interpretation of Contemporary Song Category "Under The Sea",
3. Best Interpretation of Barque Choral Works "Die Himmel Erzählen Die Ehre Gottes",
In the final round of the competition, each winner from each category will compete again for the Grand Prix. Voca Erudita Student Choir was entitled to receive the highest award, namely the 2022 Tokyo International Choir Competition Grand Champion. They also bring home the main prize of a Golden Tuning Fork Trophy along with ¥500,000 or around IDR 55.6 million.
The struggle of the member of the group who wants to perform and participate in this prestigious competition is not easy. Each team from around the world must participate in the selections that have been held since the end of 2021.
"Not just coming and singing, Voca Erudita had to undergo several selection rounds since the end of last year. Thanks to God, Voca Erudita became one of the choirs who had the opportunity to show their abilities," revealed Ardian Dika Adhyatma, one of the conductors and coach of the Voca Erudita Student Choir.
From that rigorous selection, only 44 teams were selected that passed and were able to fly to Harumi, Tokyo, Japan. Only 2 groups of Indonesia were eligible for this competition . They are El-Shaddai Student Choir from the University of North Sumatra (USU) and of course, the Grand Champion, the Voca Erudita Student Choir.
For this event, they departed with the strength of 37 singers, 1 official, 2 conductors, Ardian Dika Adhyatma S.Sn and Redi Sabtono S.Sn, accompanied by a supervisor lecturer, Pringgo Widyo Laksono, Ph.D. Ind.
Although the Voca Erudita student choir, founded in 1987, has participated and won in various world-class competitions before, it's their first time to join Tokyo International Choir Competition. "Hopefully, everything obtained will encourage Voca Erudita to achieve more achievements for Indonesia," Johannes Krisostomos Rio, the Chairperson of the Voca Erudita Student Choir said. (*)
**) Dapatkan update informasi pilihan setiap hari dari TIMES Indonesia dengan bergabung di Grup Telegram TI Update. Caranya, klik link ini dan join. Pastikan Anda telah menginstal aplikasi Telegram di HP.
---
---
| | |
| --- | --- |
| Publisher | : Sofyan Saqi Futaki |
---