English
Ferris Wheel, a Perfect Way to Enjoy the Sparkling Ambience of Batu
Senin, 08 Agustus 2022 - 05:31 | 27.49k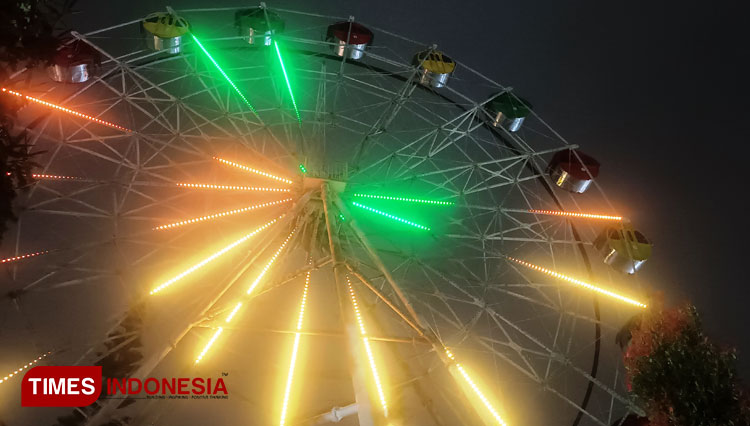 TIMESINDONESIA, BATU – Batu has been well known to have such captivating view at night. lots of venue offer their roof top to get this mesmerizing eyes view. Including the Ferris Wheel at Batu Central Park. This attraction will surely give you another sensation of enjoying the ultimate night ambience of Batu at night.
Located at Batu Central Park or also well known as Alun-Alun Batu, you will need to pay for IDR 5 K to ride and get the fun. For those of you who come with a lot of friends or family you don't need to be worry for each capsule can fit to 3-4 adults or 4-5 adults and several kids in it.
The operating hours of the Ferris Wheel start from 09.00 to 20.00 local western times. However, on the sidelines of these operational hours, there are also resting hours such as 11.00 to 12.30, 14.30 to 15.30, and 17.00 to 19.00 local western times.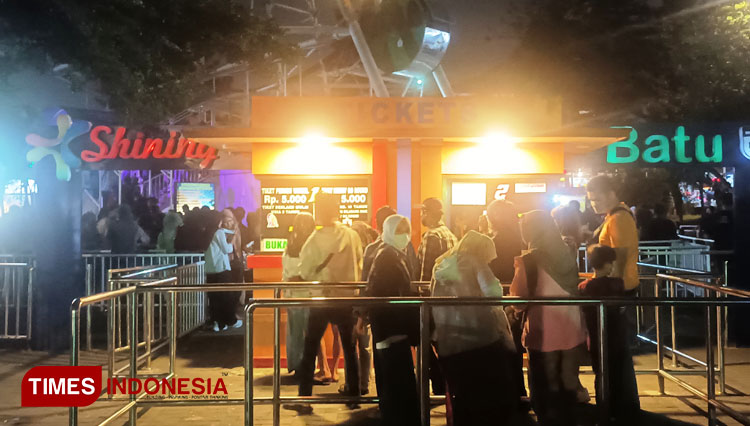 Ferris Wheel ticket purchase counter in Alun-Alun Batu (Photo: Adam Chesar Gunawan/TIMES Indonesia)
Before you get on the Ferris wheel and buy the ticket there are some things you need to notified such as:
1. Follow all instructions from the officer.
2. The ticket is only valid for one person.
3. Children aged 3 years must pay in full.
4. Visitors with heart disease, mental disabilities, and hipophobia are better not to ride this Ferris Wheel.
5. It is forbidden to bring pets on board.
6. It is forbidden to do immoral acts inside the capsule.
7. It is forbidden to bring food into the capsule.
8. While in the capsule, it is forbidden to remove the limbs.
If you have read and agreed to all the term than it means you are ready to have fun and ride the wheel. But it will need your loosing nerve for the line will sometimes be so long. However, all was so worth the wait after the wheel started to roll.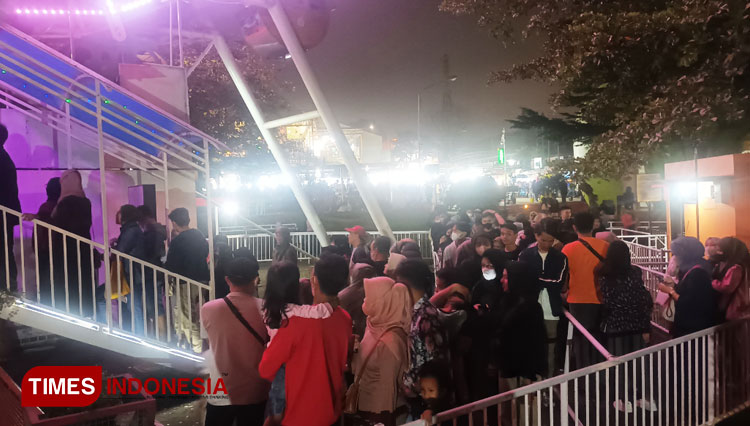 The long queues cause an amount of people to ride the Ferris Wheel (Photo: Adam Chesar Gunawan/TIMES Indonesia)
The glimmering light of Batu city at night will make feel like you don't want to go down and just stuck on the top. For a ticket, you will be allowed to enjoy just one lapse and that's it. So make sure you make a good moment and capture all the beautiful view when you were on the top of the Ferris Wheel. (*)
**) Dapatkan update informasi pilihan setiap hari dari TIMES Indonesia dengan bergabung di Grup Telegram TI Update. Caranya, klik link ini dan join. Pastikan Anda telah menginstal aplikasi Telegram di HP.
---
---
---