English
Loved by Travelers, Tuna Jaw Becomes the Favorite Menu in Kedai Tuna Morotai
Selasa, 31 Mei 2022 - 03:22 | 26.68k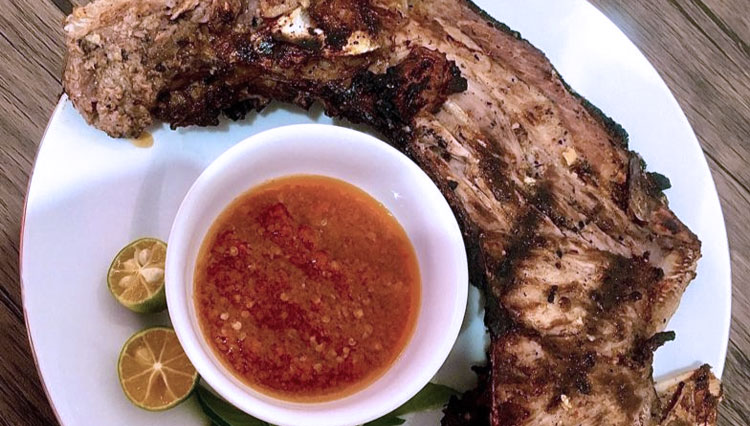 TIMESINDONESIA, PULAU MOROTAI – Morotai is an island with historical value from the second World War era in North Halmahera, North Maluku. This region is known for its abundant natural wealth, especially the marine resources. This extraordinary feature becomes one of the main features offered by the locals through several culinary tourism centers built by the governor of Pulau Morotai.
One of those culinary tourism centers has a unique dish offered on the menu which becomes the favorite of tourists from all around the globe. It is no other than the Grilled Tuna Jaw with Rica Seasoning ala Kedai Tuna Morotai, which is located in the Ex Region of Sail Indonesia, Juanga Village, South Morotai, North Maluku province.
The savory taste of grilled tuna jaw makes this menu became quickly known by all visitors and tourists alike and becomes one of the main attractions of this region. This menu is only available in Kedai Tuna Morotai. You can get to Kedai Tuna Morotai 5 minutes from the city center of Daruba.
The tuna jaw is a part of tuna that is usually being thrown away because the majority of it is dominated by fish bones and only has a little amount of meat. However, with creativity and ample knowledge about food processing methods, Kedai Tuna Morotai successfully created an innovative yet tasty delicacy from such uncommon material.
When tourists come to visit this place to reminisce about one of the biggest wars that ever happened to humankind, this one dish, in particular, will be a perfect addition to the most memorable things in Morotai, besides the event of the World War. As the signature dish of the culinary center in Morotai, it is no longer a surprise that a delicious serving of Grilled Tuna Jaw with Rica Seasoning served with warm rice, fresh vegetables, and various refreshing beverages can get any tourist one of the best tropical experience ever.
"There are a lot of both domestic and foreign tourists who have come to enjoy our signature dish, the Grilled Tuna Jaw with Rica Seasoning ala Kedai Tuna Morotai," said the owner of Kedai Tuna Morotai, Asyura Oemar, Sunday (29/5/2022).
He explained that the cooking method consists of soaking the tuna jaw in a special mixture of spices and grilling it to get the distinguished grilled aroma. This way, the tuna head will have a similar taste to beef barbeque. Additionally, you can spread the Rica seasoning as you desire to get the perfect serving of Grilled Tuna Jaw.
Asyura also mentioned that when eating the signature dish, customers need to pay attention to getting all of the meat which may be tucked between the jawbones. The meat has a soft and juicy texture, which will taste even better if you pour the Rica seasoning onto the dish.
Other than the Grilled Tuna Jaw with Rica Seasoning, Kedai Tuna Morotai also offers various tuna dishes. You can also get the Tuna Belly, Tuna Steak, Special Fried Rice with Tuna, and Special Fried Noodles with Tuna. You can also choose various fresh beverages from the menu that will make the best of your visit here.
"The marketing technique, because I am a member of ASN (Nation Civil Apparatus), relationship with other members is very important. We also use social media as our main marketing medium, due to its capability to reach customers from all around the world. Even more, the premise of our business is in a strategic district, the Courtyard of Ex Sail Morotai which commonly becomes the favored district for huge public events. It is very close to favorite public destinations, so tourists can find our place easily," he said.
If you ever want to get your hands on one of the most favorite dishes in Morotai, wait no longer and visit the District of Ex Sail in Juanga Village, Morotai. With IDR 40,000 you can get a small portion of grilled tuna jaw, IDR50,000 for a medium portion, and IDR65,000 for the jumbo size that will satisfy your curiosity for this signature dish, which comes with additions of warm rice, fresh vegetables, and fresh drinks. (*)
**) Dapatkan update informasi pilihan setiap hari dari TIMES Indonesia dengan bergabung di Grup Telegram TI Update. Caranya, klik link ini dan join. Pastikan Anda telah menginstal aplikasi Telegram di HP.
---
---
| | |
| --- | --- |
| Publisher | : Lucky Setyo Hendrawan |
---