English
6 Most Favorite Movies of Johnny Deep
Kamis, 26 Mei 2022 - 03:00 | 28.60k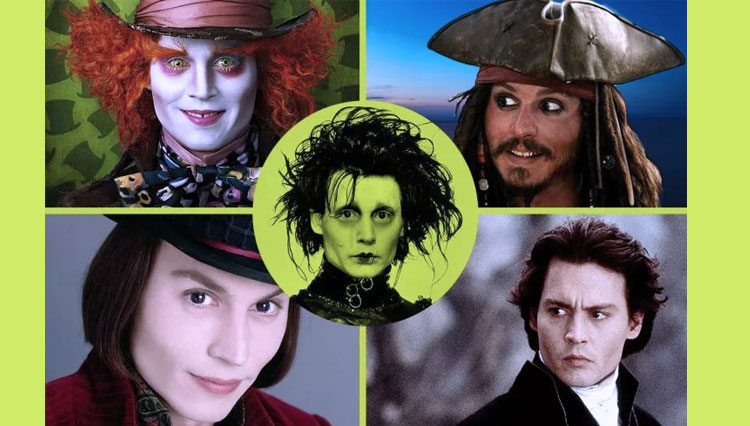 TIMESINDONESIA, JAKARTA – Johnny Depp private life with her ex-wife Amber Heard has become one trending topic in all of media in the world. Especially after the defamation trial he threw against Amber Heard for domestic abuse. Watching their trial make us willing to recall all of their movie especially for Johnny Depp.
Before this, Johnny Depp was known as one of highest paid star in Hollywood. His acting in all of the character has made him become one of the best actor that won Grammys for several times. So, without any further do, let's check some of best movie of Johnny Depp.
1. Pirates of the Caribbean series 2003 - 2017
Casted as Jack Sparrow the Captain of Black pearl, Johnny Depp took some praise and critics in this movie. However his acting has brought the movie becomes 14th highest grossing film series of all time. It also one of franchise movie series that grossed over $1 billion.
2. Alice in the Wonderland 2010
In this movie Johnny was casted as Mad Hatter, a guy with red hair and a long hat to cover it. In this movie Mad Hatter becomes Alice bestie and help her defeat Red Queen. The second sequel was also produced in 2016 where Johnny also appointed for the same cast.
3. Charlie and the Chocolate Factory 2005
It's a seasonal movie which has become one of a must to watch movie during Christmas. In this movie, Johnny was casted as Willy Wonka which own the chocolate factory. Mr Wonka was looking a heir to run the company for he was living alone and trusting no one except oompa loompa.
4. Edward Scissorhand 1990
Edward the guy who had a scissorhand was casted by Johnny Depp beautifully. His acting and role in this movie has made him become a famous meme character. Edward had the hand from his creator, a local scientist who dies a time before he could finished his ultimate creation.
5. Rango 2011
Rango is chameleon who fell of an airplane while traveling with its owner. In this case, Johnny dubbed Rango voice. Rango then travelled alone and met several beast and a herd of bison. This chameleon was also involved in the local water issue.
6. Corps Bride 2005
As Victor Van Dort, Johnny Depp dubbed the voice perfectly. This movie tells a story of Victor who accidentally married to a corps named Emily. He was rehearsing his vow in a forest and put the ring on an upturned root. Little did he know, the root was the finger of a the dead Emily. (*)
**) Dapatkan update informasi pilihan setiap hari dari TIMES Indonesia dengan bergabung di Grup Telegram TI Update. Caranya, klik link ini dan join. Pastikan Anda telah menginstal aplikasi Telegram di HP.
---
---
| | |
| --- | --- |
| Publisher | : Lucky Setyo Hendrawan |
---