English
Rengganis, the Longest Suspension Bridge in South East Asia
Rabu, 11 Mei 2022 - 01:32 | 28.69k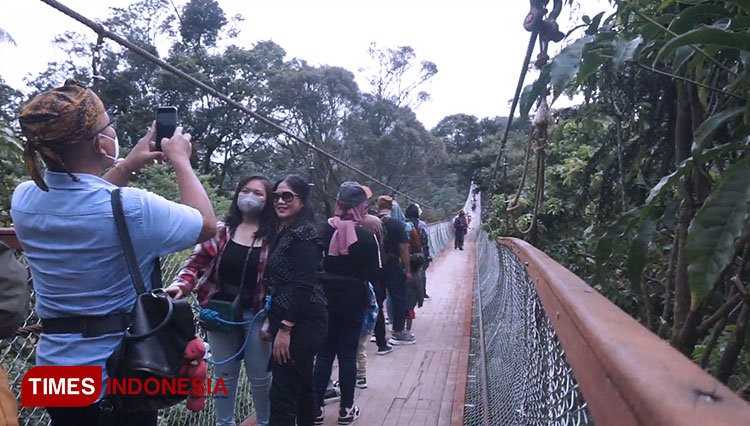 TIMESINDONESIA, JAKARTA – Bandung should be very proud of their city, for now this city has been named to have the longest suspension bridge in South East Asia. This bridge has attracted the domestic and foreign tourist. They called it as Rengganis Suspension Bridge.
Located at Rancabali, Bandung, this place has now become one iconic tourist destination of the city. It's around 370 meters long and made of ulin wood, the second strongest wood after teak which was taken directly from Kalimantan.
Some huge wires were used to strengthen the foundation. There were some net to cover each of the site as safety and protection for the visitors so they won't slip out of the bridge. This bridge connects the Cibuni hot spring water public bath under the Rengganis Crater at Ciwedey.
When you step on the bridge, you will fell some adrenaline rush for the bridge will be a nit shaking, yet super safe. From this bridge you could witness the beauty of sunrise and sunset.
It's situated 75 meters above the sea level. Sometimes it's even foggy and cloudy. You seems like able to reach the cloud within your arm. When the fogs cover the bridge, you will feel like you walk on an never ending shaking path.
The bridge hasn't been opened for public. Yet the local government has allowed the locals to taste and experience the sensation of walking on this bridge before others do. The locals get a special treat with it, to be the first person to feel the amusement of walking on this suspension bridge.
As for now, the local government still preparing for the public facilities such as adequate parking lot, and some road construction to this tourist destination. For the soft launching, the local gets 50% discount for the ticket. And a free ticket for Pasirjambu community where the bridge lies. The regular ticket will cost you for IDR 100 K/pax.
The local government of Bandung planned to open this Rengganis Suspension Bridge for public in June or July 2022. the biggest suspension bridge in South East Asia were expected to gain so much attention from the toruist either for domestic or foreign tourists. (*)
**) Dapatkan update informasi pilihan setiap hari dari TIMES Indonesia dengan bergabung di Grup Telegram TI Update. Caranya, klik link ini dan join. Pastikan Anda telah menginstal aplikasi Telegram di HP.
---
---
---