English
4 Perfect Places in Malang to Accompany Your Leisure Time
Rabu, 12 Januari 2022 - 05:41 | 15.79k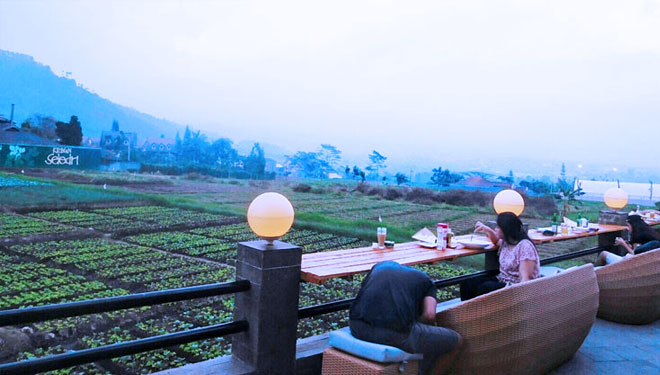 TIMESINDONESIA, MALANG – Enjoying the beautiful view of Malang doesn't mean that you have to go to some natural tourist attraction. You could just simply hang out at one café or restaurant with modern atmosphere in Malang. As nowadays, those modern restaurants will not only pamper you with good food but also enchanting scenery.
These restaurant below will give you thousands of beautiful spot to capture with your camera. From the food to the scenery, you will be astonished with all the thing these places have to offer. So, which restaurants and cafeteria are they? Let's check them out.
1. Pupuk Bawang Cafe & Dining
Either on day or night, this place will pamper you with stunning scenery. the panoramic mountainous view and the lush green local farm will make you feel like you will never leave this city forever. The cool climate of Batu make this place so perfect to hang out.
2. Rumah Makan Inggil or Inggil restaurant
Inggil restaurant not only will pamper you will nice atmosphere and scenery. This place will also make your belly full of super affordable food with nice taste. This place is designed in Museum like. It displays lots of traditional instruments on every corner of it. This place opens daily from 10.00 - 22.00 local western times.
3. Djati Lounge
This place has a nice concept. It's some kind of restaurant with bungalow concept. You will feel like you were somewhere in Bali if you visit this place. the outdoor view offers a nice golf yard and pool view while the indoor will give you a nice romantic ambience.
4. Skyroom
This place is a part of Best Western OJ Hotel Malang. The Skyroom will give you the exotic ambience of Malang from the top for it's located on the rooftop of the hotel. The beautiful mountainous view lies far a head will be a nice captivating scenery at dy. While in the night the glimmering light of the city will give you a romantic ambience.
All these restaurants and cafeteria will surely give you an nice experience while staying in Malang. Just make sure you have enough room at your phone to capture all the jaw dropping sceneries.(*)
---
---
| | |
| --- | --- |
| Publisher | : Ahmad Rizki Mubarok |
---