English
Enjoy European-Style Cuisine in Salt N Smoke BBQ Mina Family Pangandaran
Kamis, 30 Desember 2021 - 05:36 | 25.58k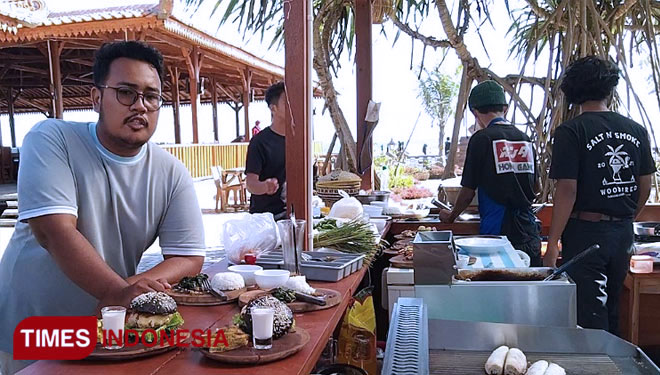 TIMESINDONESIA, PANGANDARAN – style="text-align:justify">Your holiday in Pangandaran is not yet complete if you hadn't taken a bite of the European-style cuisine in Salt N Smoke BBQ. This cool spot is located on the Pamugaran Block of west beach, in Mina Family Pangandaran.
Since its establishment in 2021, Salt N Smoke BBQ continues the innovation to produce various foreign cuisines, especially those from Europe. There are tenderloin and sirloin steaks, a cuisine created by the millennials to fulfill tourists' needs when they are looking for some European dishes in Pangandaran.
Salt N Smoke BBQ Mina Family Pangandaran uses Australian beef for both the tenderloin and sirloin steaks.
The manager of Salt N Smoke, Rizky Fazri Gunawan said that the idea appeared from a group of young entrepreneurs in Pangandaran. "Our target is to fulfill foreign tourists' culinary needs during their vacation in Pangandaran," said Rizky, Wednesday (15/12/2021).
Salt N Smoke Mina Family Pangandaran is one of the pioneers of the western barbeque style meat-cooking method using smoke in Pangandaran. "The cooking process for our sirloin and tenderloin steaks is using smoke instead of grilling," said Rizky.
Rizky also mentioned that you can buy one packet of sirloin and tenderloin steak in Salt N Smoke Mina Family Pangandaran for an affordable price of IDR50,000. The price is relatively cheap; thus it is very affordable for the middle-class and the majority of people of Pangandaran.
"We have high daily demands for both tenderloin and sirloin. On average, we serve about 70 to 80 customers every day," said Rizky.
Salt N Smoke Mina Family Pangandaran serves sirloin with fatty meat and tenderloin with clean or fatless meat. "In terms of health, steaks have a low value of cholesterol and more value of protein, thus it is safe to eat," he said.
To satisfy the needed ingredient of raw Australian beef, Salt N Smoke Mina Family Pangandaran has to import from outside the Pangandaran region. They usually process about 30 kilograms of raw Australian beef. "Our customers love our steaks because Salt N Smoke BBQ is known for the smoked steaks," said Rizky.(*)
---
---
| | |
| --- | --- |
| Publisher | : Ahmad Rizki Mubarok |
---