English
Teras Senteni, a Perfect Combination of Good Food and Beautiful Scenery
Senin, 27 Desember 2021 - 00:24 | 22.75k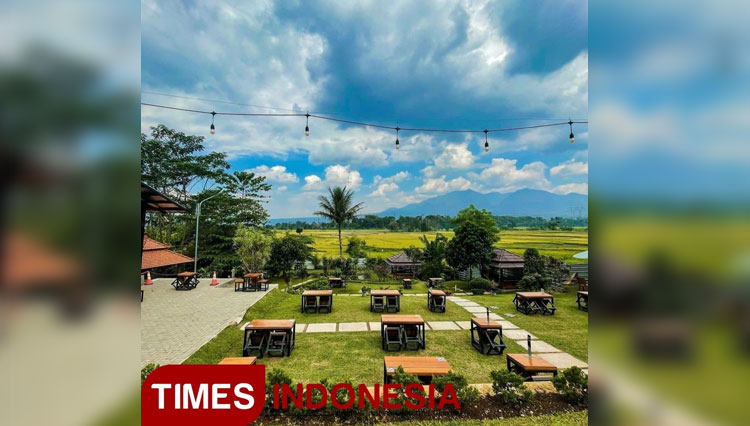 TIMESINDONESIA, BANDUNG – Are you happened to be around Bandung, West Java? And looking for a nice place with a nice cup of coffee? Then you need to visit Teras Sentani. It's a café which served the best local taste of coffee.
Teras Sentani is a local café located at Kampung Babakan Peuteuy, RT.01/RW.07, Cangkuang, Bandung, West Java. This café combines modern design and the natural beauty of the scenery around. Not to mention all the dishes from foods to beverages they have to pamper your belly.
They have signature beverage called Ice Kopi Signature Sentani. This drink have become a favorite for the locals since it was firstly introduced to the public. There are some other drinks made out of coffee for your alternative. All these will be the best companion to enjoy the nice atmosphere and good foods.
Some dishes and delicacy are also ready to fill your growling belly. You could try too taste their signature dishes Nasi Goreng Ayam Sentani and Nasi Brisket Sentani at first. Don't you worry, the price are very affordable. You could have all the dishes and beverages starting from IDR 7.5 K.
All these foods and beverages will be perfect to be enjoyed at terrace of Teras Sentani while enjoying the sunset. The lush green rice field far away down there become another view that will mesmerize your eyes during your dining. The nice food and views has attracted most people to come tot his café.
"I came here every Saturday night just to hag out. The taste of the coffee fit in my palate and the price is very affordable," Candra, a local customer of Teras Sentani Bandung said. (*)
---
---
---