English
Putu Bambu, Indonesian Food with Exotic Traditional Taste
Kamis, 23 Desember 2021 - 00:06 | 17.35k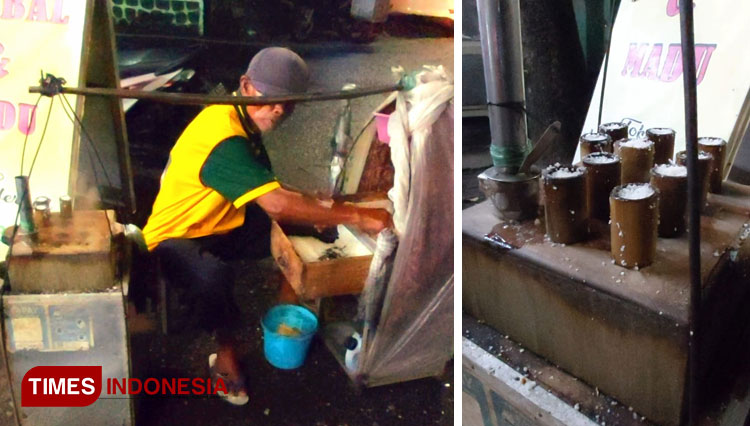 TIMESINDONESIA, MALANG – Putu Bambu is an Indonesian exotic food which hardly to get nowadays. There are few of this food vendors left in the country. Not every town or city has it. But in Malang, you will still be able to find some of them as a street food or in some traditional bakery.
Putu Bambu is a traditional cake for Indonesian. It's made of rice flour and a little bit of all purposive flour to make it moist and soft. The centre of the putu will be stuffed with sliced of palm sugar. Some will add green color from pandan leaves to make it prettier and aromatic. And then sprinkled with grated coconut fro the finishing touch.
Literally, Putu Bambu means batter in bamboo. It's because the way it cook was using bamboo tubes put on bamboo board as the steamer. All those ingredient will make this food has perfect texture, savory and sweet taste as well. The bamboo will leave an aromatic scent to the putu and make it even more mouth watering.
As a street food, Putu Bambu normally being offered and sell in bamboo cart which carried on the shoulder by the vendor. The bamboo cart will carry ready to cook ingredients, small clay stove and a steam board to steam the batter. The steam board will produce some high pitch sound when it was not being used.
The sound becomes the main characteristic of all traditional street food that has Putu Bambu as their main product. Naturally, this high pitch tone collects the customers to gather and wake their inner willing of having this food on their table.
Narto, a 60 year old guy of Malang has had Putu Bambu as his main business for more than 10 years. He carried the bamboo cart on his shoulder and walk for 20 km everyday. "I leave at 11.00 a.m. and go back when I have managed to sell all the putu or just go back home when it's late at night," he said.
Narto doesn't charge much for his Putu Bambu. For a piece of bite size of putu, Narto only charge you for IDR 1 K or a penny. And by having 5 to ten piece will be enough to satisfy your rumbling belly. But if you're a big guy, then you need more than 10 for sure. (*)
**) Dapatkan update informasi pilihan setiap hari dari TIMES Indonesia dengan bergabung di Grup Telegram TI Update. Caranya, klik link ini dan join. Pastikan Anda telah menginstal aplikasi Telegram di HP.
---
---
---