English
Capture a Picturesque View at Banyu Tibo Beach Pacitan
Senin, 06 Desember 2021 - 03:29 | 34.61k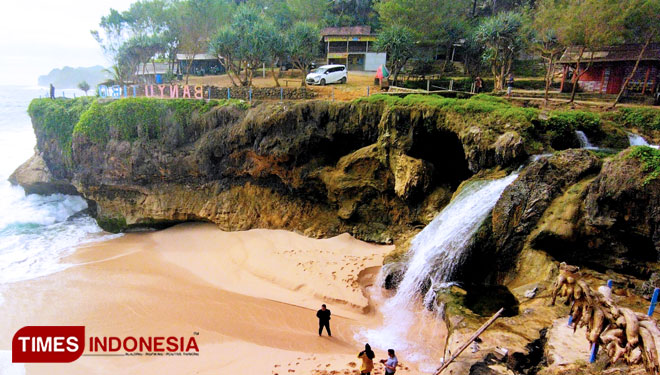 TIMESINDONESIA, PACITAN – Every beach has its own identity. And probably Banyu Tibo Beach Pacitan has the most unique wonderful identity you will ever seen. It has a beautiful waterfall on one side of the beach which will give you a nice picturesque view for your camera.
Located at Widoro, Donorojo, Pacitan, East Java. You could access it with any vehicle you have. However you will find some bumpy road along your trip. But after reaching your destination, all those wiggly and dizzy feeling after gong through those bumpy road will be paid off.
Once you reach your destination and walk out of your car, you will see a crystal clear water emerging from far away and huge sound of falling water. This will lead to a bigger curiosity that makes you walk right away to the beach without waiting for other things.
Yes, it's a waterfall. A beautiful waterfall by the beach which will mesmerize your eyes and make your jaw drop for it's beauty. Not to mention the joy you get after touching this fresh waterfall. You will be drawn to no dip your feet on the water or even play under the waterfall after you saw it.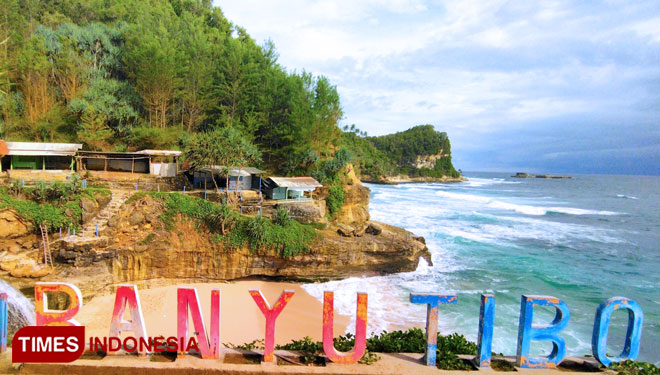 The beautiful waterfall at Banyu Tibo Beach of Paccitan. (Photo: Yusuf Arifai/TIMES Indonesia)
The main source of the water coing from a spring at local mount. Hear said the water will never be dried even on the hotter day of summer. "This is outstanding. This is my first time coming here and I think I falling in love it. It gave me a good time of spending some time with my family," Ferry, a visitor from West Java said on Friday (3/12/2021).
After spending some time on the waterfall, you could also lead your feet to be tickled by the smooth browny sand on the beach. Or you could also play on the water for this wave is quite calm. For those who like some fishing, you could bring your fishing kits and join the local community. They will lead you and show some good spots as well giving some free advice of a proper fishing way in this area.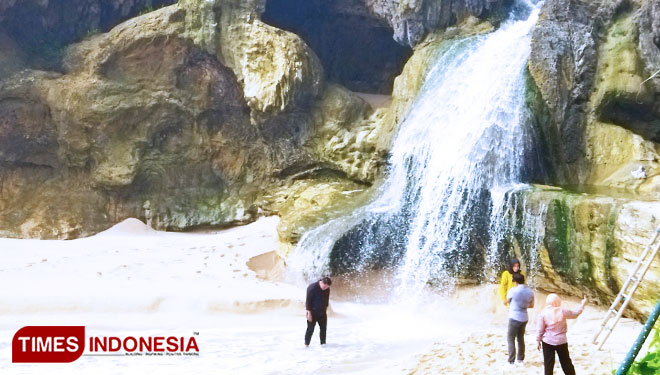 The visitors enjoying their time playing under the waterfall. (Photo: Yusuf Arifai/TIMES Indonesia)
To get in to Banyu Tibo Beach Pacitan, you will just need to pay around IDR 10 K for adults and IDR 5 K for kids of domestic tourist. If you would like some quite moment and make the beach as your own, you could consider to go to this beach on weekdays. As for weekend, there will be more crowd surrounding the place. (*)
**) Dapatkan update informasi pilihan setiap hari dari TIMES Indonesia dengan bergabung di Grup Telegram TI Update. Caranya, klik link ini dan join. Pastikan Anda telah menginstal aplikasi Telegram di HP.
---
---
---