English
Balesaji Restaurant in Banyuwangi Presents Fancy Dining at Reasonable Price
Sabtu, 13 November 2021 - 01:31 | 11.27k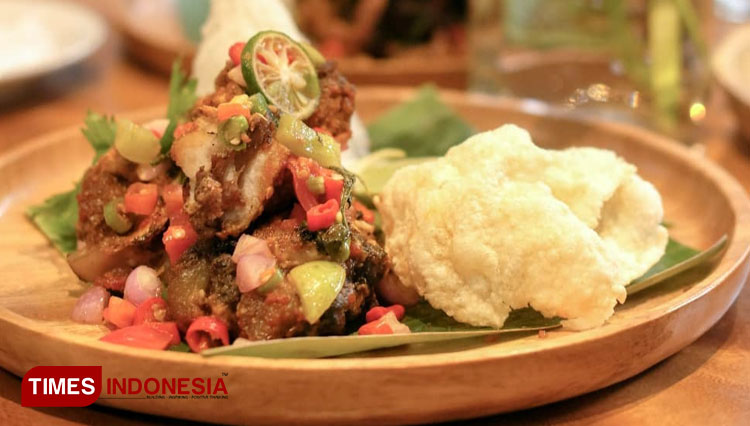 TIMESINDONESIA, BANYUWANGI – Culinary connoisseurs in Bumi Belambangan have a new place to satisfy their needs for delicious meals. Balesaji Restaurant in Banyuwangi now presents various fancy meals at a reasonable price.
Located on Jalan Raya Jember, Dadapan Village, Kabat, Banyuwangi, East Java, this restaurant which was established in April 2021 offers a wide variety of dishes, from traditional to modern Indonesian cuisines.
Numerous signature dishes such as grilled ribs, Taliwang chicken, Tempong rice, and middle-eastern style fried rice are available in this restaurant. With the unique taste of various spices combined with the fresh, beautiful, and lush environment, Balesaji Restaurant is ready to serve even the most sophisticated culinary connoisseurs in Indonesia.
Balesaji Restaurant also has various unique beverages to quench your thirst, such as the Red Queen, a combination of watermelon juice and mint leaves. There is also the Fresh Banana Cooler, a mixture of banana smoothie, lemon juice, and mint leaves that will help you recover when the summer heat peaks. Balesaji also has various Indonesian traditional beverages such as the Ice Manado and Ice Teler.
You can also stop for a cup of joe with your family or colleagues. You can choose an ordinary cup of joe or choose a new favorite from the list. Balesaji Restaurant has a signature coffee drink called Pandan Coffee, using espresso, pandan syrup, and condensed milk.
Because of its numerous signature foods and beverages, it's no surprise that the restaurant is crowded with hundreds of visitors most of the time.
Its strategic location near to the center of Banyuwangi and surrounded by luxurious hotels attract food lovers from all around the Banyuwangi region.
With maximum service, Balesaji staff and employees will welcome all visitors from the entrance. Once the guests enter the dining area, they can enjoy the beautiful view of wooden furniture and decorations, which becomes one of the attractions for all visitors of Balesaji Restaurant.
Moreover, while enjoying the foods served on the table, customers can also enjoy strains of live music performance. Of course, this makes your dining experience even more relaxing and enjoyable.
The Head of Operational Department of Balesaji Banyuwangi, Wily Bramanda explained that visitors of all ages come every now and then to visit and enjoy the unique dining experience offered by Balesaji Restaurant Banyuwangi. All visitors are guaranteed to get a relaxing dining experience, unique and delicious dishes, or a new atmosphere with their family or significant others.
"Young and old people come to this place accompanied by their family or colleagues because we have a comfortable environment suitable for gathering events," said Wily to TIMES Indonesia, Friday (12/11/2021).
Despite its luxurious concept design, Balesaji Restaurant offers all of the services at reasonable prices. Starting from IDR10,000 for all beverages, IDR15,000 for snacks, and IDR25,000 for foods.
Furthermore, with classic-modern interior design, this place starts to serve all guests from 10 AM until 10 PM, with many spots suitable for all your Instagram needs. There are various wall decorations, dining tables, and even a swing in every corner of this place, perfect to make all kinds of content on Instagram.
"People often take a lot of pictures during gathering events or dates with their significant others, because we have a lot of beautiful spots for photos," said Wily.
Other supportive facilities are also available, such as a meeting room with a capacity of 30 people. A luxurious ballroom with a capacity of 90 to 100 people, complete with various meeting equipment. There is also a prayer room available for Moslem visitors.
However, due to the Covid-19 pandemic, the manager of Balesaji Restaurant urges all visitors to obey the health protocols. All visitors are required to wear a face mask, obey the social distancing rule, and wash their hands before entering the area of Balesaji Restaurant.
Are you interested to experience fancy dining at a reasonable price in Balesaji Restaurant? You can visit the premises directly to enjoy all of the special offers available at Balesaji Restaurant Banyuwangi. You can also DM its Instagram account; @balesaji. (*)
---
---
| | |
| --- | --- |
| Publisher | : Rochmat Shobirin |
---