English
Lon Malang Beach of Sampang Madura Offers You Enchanting Panoramic Views
Senin, 08 November 2021 - 02:08 | 22.85k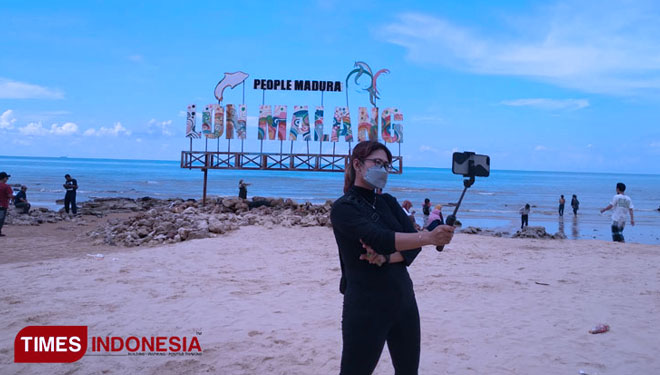 TIMESINDONESIA, MALANG – Madura has been well known by the local community as an island which produces biggest number of salt in the country. The beach that surrounds the island has become the main reason of it. Not only contributing in salt production, the beaches such as Lon Malang Beach offers beautiful things to see.
You could find Lon Malang Beach at Jalan Raya Batu Lengger Timur, Bira Tengah, Sukobana, Sampang, Madura. Its situated next to a toll road so you could easily reach it. It could be reached within 2 and half hours from Surabaya by car. During your trip to this beach you will be pampered with beautiful view of ocean and mountainous view on the other side.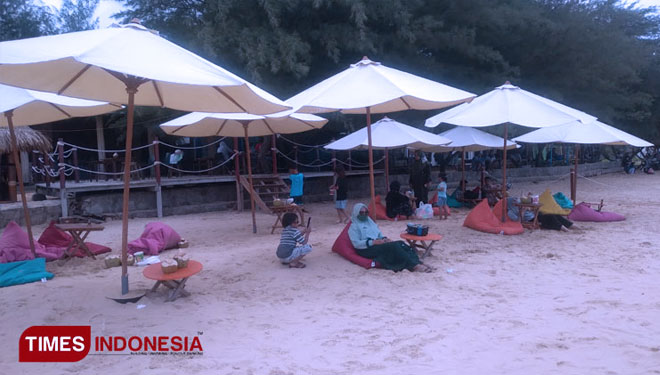 Beanbags and the shades on the cafe at Lon Malang BEach gives you Balinese atmosphere. (Photo: Khusnul Hasana/TIMES Indonesia)
Before you get in to the beach, the management will charge you around IDR 5 K for the ticket, not to mention for IDR 10 K for the parking fee or equal with $1 for all. This is will absolutely bang your buck. For when you get there an enchanting view of white stretched white sand will await you ready to massage your bare feet.
The beautiful crystal clear water along with such a nice wave will be ready to tickle your feet and take you to play all day. Some picturesque spots were made for those who willing to capture their moments in their camera. Giving you the best angle to shoot.
Meanwhile, for those who willing to enjoy Lon Malang Beach while enjoying a set of fresh coconut juice within the shell, you could take a spot from the cafés located right on the shore. These cafés has an exotic Balinese ambience that will remind you to those beach coast café in Sanur Bali.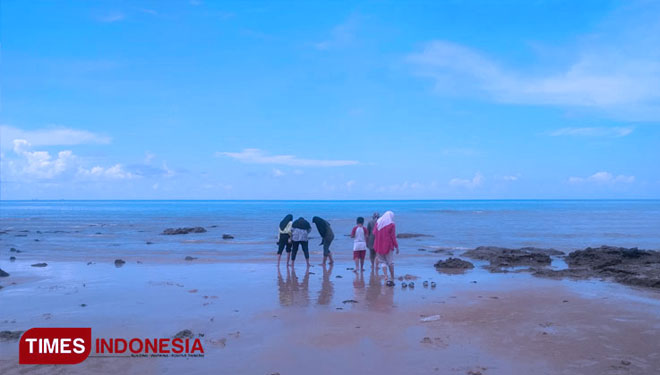 The visitors enjoying their time playing with the wave at Lon Malang Beach, Sampang Madura. (Photo: Khusnul Hasana/TIMES Indonesia)
And for those who willing to enjoy the beach with a little bit of nerve challenge touch, you could ride an ATV or horses that you could rent from the local community in the area. This experiences will surely make your day and make you forget all those fatigue after a long way to go to Lon Malang Beach, Sampang, Madura.
---
---
| | |
| --- | --- |
| Publisher | : Ahmad Rizki Mubarok |
---