English
Get The Exquisite Taste of Yogyakarta at Warung Parikaton Malang
Minggu, 07 November 2021 - 04:17 | 27.47k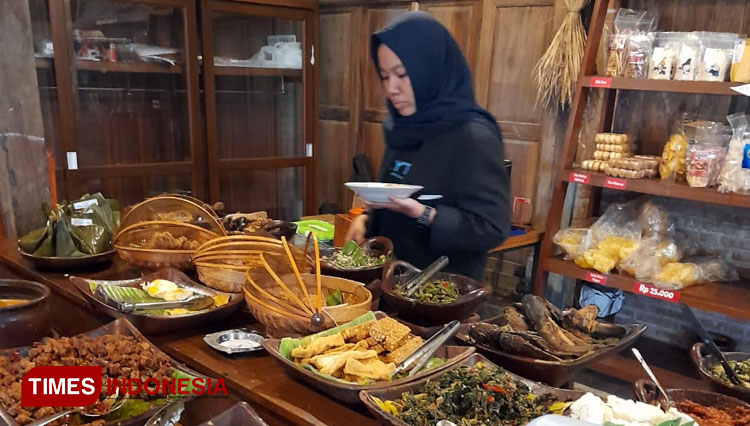 TIMESINDONESIA, MALANG – Typical rural foods with local taste has always attracted people to come by. The exotic taste has made them coming back for more and more. Just like what Warung Parikaton of Malang has for their customers.
Warung Parikaton is a local restaurant located at Jalan Wijaya Kusuma No.100B, Jara'an, Sekarpuro, Kec. Pakis, Malang. "It was established around two years ago, when the pandemic started to strike the country. We try to bring Jogja (Yogyakarta) closer to the customers," a crew member of Warung Parkton said on Friday (5/11/2021).
As the crew said, the restaurant brings out Yogyakarta atmosphere on every corner of it. Starting from the Joglo House (a traditional house of Yogyakarta that you could find at the entrance) and some other interiors, the crew that spoke mostly with Central Java way of speaking Javanese, or the food and beverages.
Nice foods and a nice atmosphere at Warung Parikaton Malang. (Photo: Khodijah Siti/TIMES Indonesia)
After you get your table the crew will lead you to the buffet corner. You could take whatever you want, but mostly the food are some typical local dish with traditional taste. You could find some mangut (cat fish or carp with spicy curry gravy), fried chicken or cat fish which has been marinated before with special indigenous herbs and spices, pepes, and lots more.
Meanwhile for the beverage, you could order some typical Yogyakarta drink like wedang uwuh, kopi joss (black coffee with lump of charcoal), degan or coconut flesh with coconut juice with a little touch of orange squash, Javanese beer, and more.
You could also have some snack like crispy tofu, fries or the tempting fried banana with many kind of toppings. All the food and beverage are very affordable. They all started from IDR 8 K. the management of Warung Parikaton Malang will make sure all the food they served are fresh and make you feel satisfied.(*)
---
---
| | |
| --- | --- |
| Publisher | : Ahmad Rizki Mubarok |
---