English
PPI Dunia and iWareBatik Support the Sustainable Development of Fashion Industry
Kamis, 04 November 2021 - 01:29 | 19.56k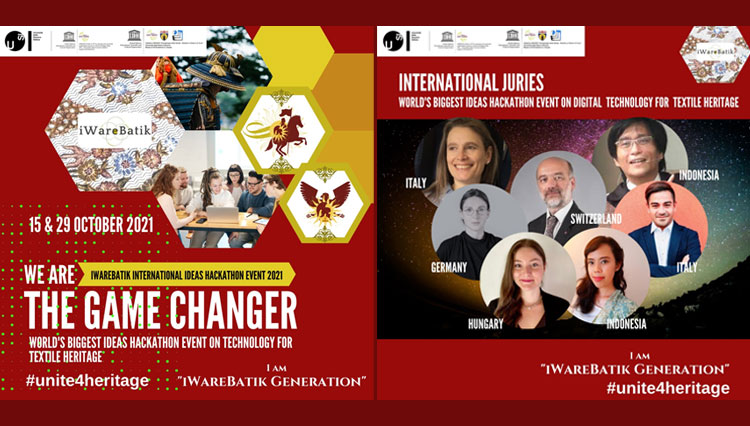 TIMESINDONESIA, JAKARTA – In order to appreciate and promote Indonesian culture, PPI Dunia supports iWareBatik on their collaboration with 33 Indonesian universities throughout Indonesia in holding the International iWareBatik Ideas Hackathon Event 2021. This event was attended by 156 Indonesian bachelor students who have a passion in the field.
The International iWareBatik Ideas Hackathon Event 2021 is a competition to provoke ideas related to the fashion world by combining the latest technology into it. This event is held in two stages. The first stage of the preliminary round was held on October 15, 2021, and the final stage was held on October 29, 2021.
This event has gone through a series of national workshop activities (iWareBatik User Experience Workshop) which was attended by 926 undergraduate students from Sabang to Merauke in 17 batches from August to October 2021. A total of 628 participants participated in and submitted innovation essays on technology and culture which were strictly evaluated to select the best essays for the iWareBatik Ideas Hackathon event.
Finally, a total of 156 best essays participants representing 33 universities were selected to join the last two stages. In the event, the students were given 5 minutes to present their ideas. The presentation was conducted in English. They present their ideas on technology for culture aiming at valorising the exceptional cultural values of Indonesian traditional textiles (Batik, woven textiles, embroideries, Papuan Noken, etc.).
On this stage they should explain of how to better understand its valorisation in a way that supports the sustainable development of local communities through tourism and related creative industry such as fashion.
The jury members comprised of PhD candidates, professors and collaborators at USI UNESCO Chair from Germany, Switzerland, Italy, Hungary, and the founder of Bandung Fe Institute, Indonesia.
This event was attended and opened by the Directorate General of Economic Development and Village Investment of the Ministry Village, and Transmigration and representative officials from the Ministry of Education and Culture, Republic of Indonesia.
Prof. Dr. Muliaman D. Hadad, the ambassador of Indonesia for Switzerland and Liechtenstein affirmed that this event sets a new milestone and combines technology as part of the future with batik as the cultural heritage from Indonesian ancestors. "It is a step forward in preserving the nation's values to the next generation," he said.
Meanwhile, Dr. Silvia De Ascaniis of the USI UNESCO Chair, states that the importance of this event lies not only in the mission of raising awareness about Batik and designing solutions to do that but more on something that has to do with the beauty of the world itself.
In another place, Faruq Ibnul Haqi, PhD(c) the coordinator of PPI Dunia conveyed congratulation an extraordinary success of 156 delegates of the 33 Indonesian universities selected from more than 900 participants nationwide, who participated in the international competition. The live streaming of the first round of International iWareBatik Ideas Hackathon Event 2021 can be accessed in bit.ly/iwbhe15oct21, while the final round live streaming can be accessed in bit.ly/finaliwbhe290ct21. (*)
---
---
---