English
The 112th TMMD  Majalengka: Time to Bring the Country to a Better Future
Jumat, 15 Oktober 2021 - 22:50 | 17.37k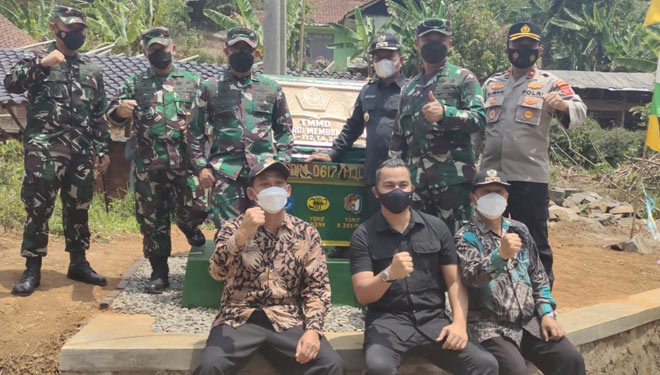 TIMESINDONESIA, MAJALENGKA – This modern time has force every country in the world to step forward and give their best toward the development. Including what Indonesian government did through the 112th TMMD Majalengka.
Tentara Manunggal Memmbangun Desa (TMMD) is a form of community service program which focused on bringing some good things to the local community especially those who lives in remote area. It put more concern from infrastructure to certain aspects related to their well being.
Kodim 0617/ Majalengka in this case give their biggest attention to accelerate the development along with improving the quality of the human resource. It is said that the economic growth has become one clear indicator yo see how far and good is the local community wellbeing.
"A good infrastructure will support a good economic growth. Both has some connection we couldn't denied. Yet, both the economic growth and development are two different things," the Commander of Kodim 0617/Majalengka, Letkol Inf Andik Siswanto said on Thursday (14/10/2021).
For this occasion, the TMMD has aimed Buninagara village of Malausma, Majalengka, West Java for their main target. They build the local infrastructure (physical target) and the local mind set as well giving them some new skills (non physical target) to help them survive this modern time.
These are the physical and non physical achievements that has been done on TMMD ke-112 Kodim 0617/Majalengka:
1. Physical target
- Constructing 950 meters X 3,5 centimeters new road with aspalt
- Constructing 951 meters height and 1,5 meters x 30 centimeters wide of new drainage
- Several other public facilities
- Renovating 2 houses
- Renovating a mosque
- Biilding to post guard
- Stucking 1000 meters x 80 centimeters wide road with cements (plestering)
- Joining some sanitary program held by village
- Planting 4000 trees
2. Non physical target
- Conducting a workshop discussing about agriculture and farming
- Health especially dwarfism
- Taxes
- Law and law awareness
- Marriage law
- Patriotism
- Catastrophe management
- Drug, Gambling and Partnership
- Covid-19 management
- Educating the locals about the importance of election
112th TMMD Decrease the Number of Poverty and Increase the will to Bring the Country to a Better Place
According to Andik, this program is one of the way to eliminate the poverty in the area. "This will at least decrease the number of poor people, as well a way to work together to make the country into a better future," he added.
During the program, several soldiers were deployed to villages to build infrastructure. The local community were also involved to help them during the process. Some officials were also involved on it.
Still according to him, they also involved lots of party in establishing the plans. They use bottom up combined with tip down planning system to make their plan works. "This program helps a lot in developing the local area. This is a living proof of TNI service for the community," Andik said.
TMMD Becomes a way to Appeal People with New Safety Guidelines During this Pandemic
The Commander of Kodim 0617/Majalengka, Letkol Inf Andik Siswanto, also explained that the 112th TMMD program was also used to educate the local community on how mportant it is to follow the safety guidelines. They also explained the importance of vaccinations on this occasion.
They were asked to keep their mask on, wash their hand occasionally, keep their distance between one another, stay at home, and stay away from the crowd. "It's one of our way to get closer to them. We persuade them to take a step in preventing the spread of Covid-19 on their area as well explaining to them the importance of vaccine," Andik said.
TMMD, where You See Army and Local Community Works Together
The Major of Majalengka Karna Sobahi said that he really appreciated for what this program has done to some of his area. According to him TMMD is one true example of how the army and the local community could hand in hand and work together in every way.
Sobahi also said that it's a crucial time to bound with one another. "TMMD shows how army could sit as a friend, family, and protector for the society. Including upon someone to support the locals on their well-being in every aspect of life," the Major said.
TMMD Building Teamwork and Cooperation
The Major of Majalengka, Karna Sobahi said that TMMD has given lots of benefit especially to the local community of Buninagara, Malausma, Majalengka. It gives the locals a chance to live a better life through some new innovations, teamwork, and partnership.
Those values strengthen the former values that has been possessed by the local community all this time. "It''s not surprising how the local community has such a high interest to work with the army," he added.
TMMD for the Locals Well-being
The Commander of Kodam III/Siliwangi Mayjen TNI Agus Subiyanto said that TMMD put the TNI credibility at stake. They will be valued for what they have done to the society, whether it's good or bad. "Together with the local community's help, they have proven that they could do all the tasks they get," he said.
He also said that the teamwork and cooperation between TNI and the local community has become one highlight thing for their program. "Keep up the good work. And keep up the teamwork," he exclaimed.
Mayjen TNI Agus Subiyanto also keep the soldier some mental support to keep doing the good will to develop all those remote villages and never be bored of spreading some positive things for others. "It involves lots of party, and that's why we hope that the locals community will take good care of it," he ended.
TMMD Raise the Value of Local Property
With the development and good infrastructure the village has, it makes properly value at Buninagara, Malausma, Majalengka, West Java arise. It's such a good news for the value of local property were no longer underrated.
Located in a remote area, this place has been underrated. It could be reached within 1,5 hours from the city center. "I'm so excited that TMMD could give such a good news to the locals. The value of local property will rise towards the development,"
TMMD Majalengka will give such a way out for 3,378 people living in Buninagara. This will bring them a new hope for a better life and future. "TMMD has helped our economic growth," Asep, a local community said. (*)

---
---
| | |
| --- | --- |
| Publisher | : Lucky Setyo Hendrawan |
---