English
HOSHINOYA Bali Granted an Award at Condé Nast Traveler's 2021 Readers' Choice
Selasa, 12 Oktober 2021 - 01:03 | 15.85k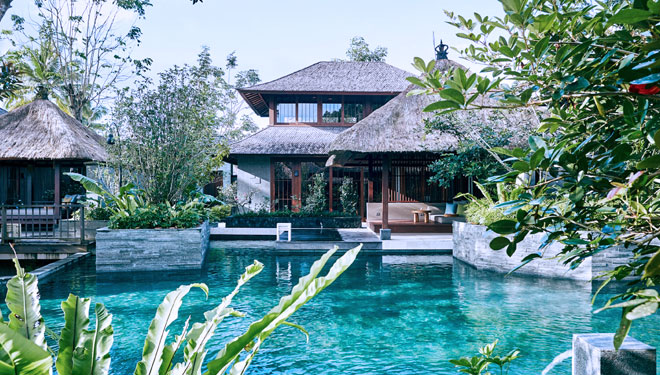 TIMESINDONESIA, DENPASAR – As one of a beautiful resort with Japanese style and hospitality, HOSHINOYA Bali has stolen their guests' heart. The resort which is operated by Hoshino Resorts which base in Nagano, Japan even receive and Award from Readers' Choice Awards, an annual event held by Condé Nast Traveler magazine.
Condé Nast Traveler is one of the world's leading travel magazines read by luxury travelers. There are more than 800.000 readers involved in the voting this time. The Readers' Choice Awards is based on an annual reader survey, highlighting exceptional hotels and resorts from all over the world and it is one of the prestigious ratings in the travel industry.
And this time, HOSHINOYA Bali is selected as the #2 best resort in Indonesia. "Our team at HOSHINOYA Bali, including myself, is excited and delighted that are resort is selected for the prestigious award, Readers' Choice Awards," says Mr. Takaaki Yasuda, General Manager of
HOSHINOYA Bali.
HOSHINOYA had just been opened for public in 2017. This resort runs under Hoshino Resort Japan. It their first chain resort outside Japan. Nestled in Ubud, this resort presents unique Japanese company culture and management style. You will feel like living in Sakura country in Bali.
HOSHINOYA also brings what so they called as "omotenashi," a commitment to provide personalized hospitality, commonly practiced in Japanese inns. This will be such a sight for a sore eyes during this pandemic, especially with all those traveling regulation and limitation by now.
Not only bring up the Japanese culture, HOSHINOYA also highlight Balinese culture and combine it into one. The natural beauty of local scenery, the crystal clear water of PaKerisan River flowing through the creek add some drama to this panoramic scene.
HOSHINOYA also equipped with fancy facilities such as Café Gazebo that floats in the valley, the 70-meter river-like pool accessible from all villas, a dining area overlooking the valley, spa that overlooks the lush green trees, and a villa featuring traditional Balinese crafts.
You could also get limited offer for domestic residents only, up to 40% discount from regular price. For more information and reservation you could visit HOSHINOYA Bali official website www.hoshinoresorts.com/en/information/topics/2021/07/32623.html. Early Bird and Stay Longer offers are also available for an extended journey of wellbeing. (*)
---
---
---