English
Enjoy Magnificent Taste of Gelato Ice Cream by Emilio Ponorogo
Jumat, 10 September 2021 - 04:08 | 30.80k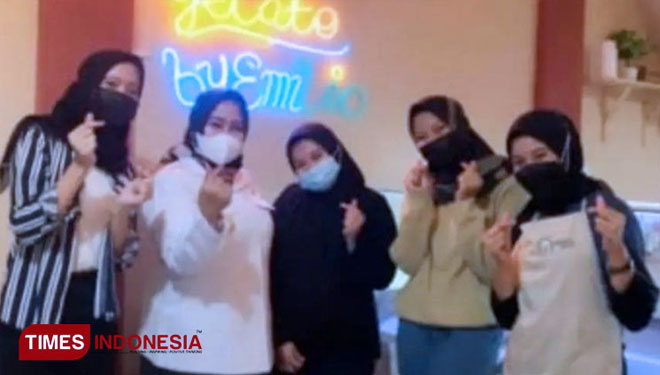 TIMESINDONESIA, PONOROGO – Gelato ice cream has a become a popular dish to have nowadays. The nice tender taste which will melt in your mouth once you scoop it makes people fall in love to it. And Gelato by Emilio trying to bring sensation to the local community of Ponorogo.
Located at Jalan Sulawesi 77 Ponorogo, East Java, this ice cream parlor offer a nice experience of having ice cream. They set their place as comfortable as possible. They also bring a nice authentic taste of Gelato Ice Cream to their customers.
"With a cozy parlor, Gelato by Emilio Ponoroho trying to bring artisanal ice cream with natural indigenous ingredients, fancy taste yet so much affordable," Fasiska Hanum, one of the manager at Gelato by Emilio said on Wednesday (1/9/2021).
Hanum also explained that Gelato by Emilio served 40 variety of flavors. They have matcha, vanila, oreo, pineaple, blackpink, coconut to chocolate peanut. "All those ice cream will make you want for more," Hanum added.
The Deputy Mayor of Ponorogo, Lisdyarita who happened to pass by and taste their Gelato by Emilioice cream feel pleased with the ice cream. She was definitely love the ice cream by the way she dig the ice cream to the bottm of her glass.
"I really do like the taste. It reminds me of thosegelato ice cream we found in fancy place at those big cities. And the parlor is quite comfortable and eye catching," the Deputy Mayor said.
Gelato by Emilio Ponorogo opens daily from 10.00 to 19.30 local western times. This ice cream parlor will be the best place to go during this summer heat. So, what are you waiting for?(*)
---
---
| | |
| --- | --- |
| Publisher | : Ahmad Rizki Mubarok |
---