English
Kalak Cave Pacitan and the Mystical Story Behind It
Jumat, 10 September 2021 - 05:04 | 26.61k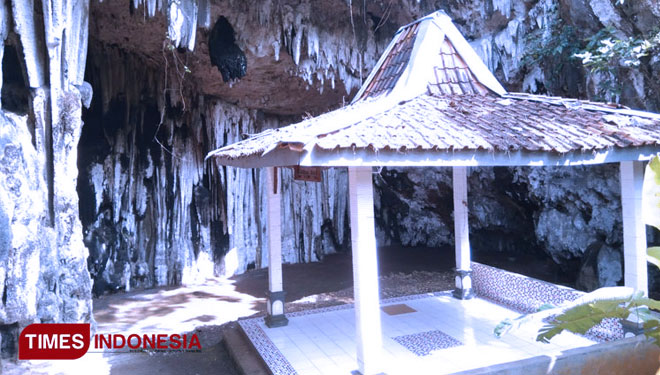 TIMESINDONESIA, PACITAN – Goa Kalak or Kalak Cave of Pacitan has becone a popular place to spend some leisure time on the weekend by the local community. This place is well known with its breath-taking view. You will be pampered with dramatic scene of stalagmites hanging on the ceiling.
Located at Sendang, Donorojo, Pacitan, East Java, not only the stalagmites, this place has enchanted people with its story. Legend has it that this cave was formerly there was actually two separated village in this area, Sendang and Kalak.
But the colonies has combined these two village into only, Sendang village. And the cave was named after the long lost village, the Kalak. "We trying to keep the history of Kalak Village reminds forever," Agus Suseno, The Chief of Sendang Village said on Friday (3/9/2021).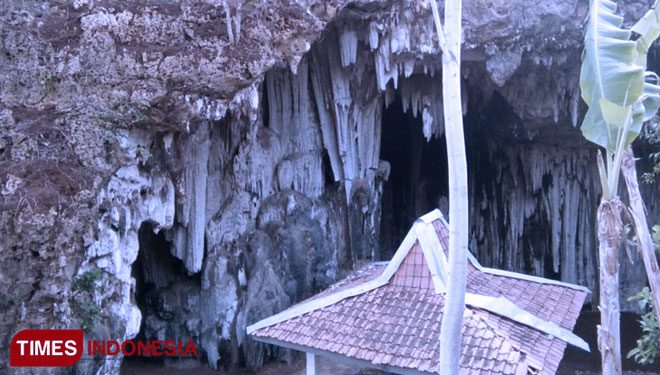 A breathtaking view of Goa Kalak taken from the road. (Photo: Yusuf Arifai / TIMES Indonesia)
Another story tells that this cave was formerly used by Raden Brawijaya, the King of Majapahit to meditate back then. This cave was also believed to be the oldest cave ever found in the city. "This place is way older than the Gong Punggung Cave," Tugiman a.k.a Manrejo the caretaker of the cave who has been worked to take care of the cave since 1965 said.
With this side of story, lots of people coming to this kalak cave to meditate. This place was believed to be a perfect place to gain an energy also to repel mantra. "They came here mostly on Friday Legi or Friday Kliwon (according to the day in Javenese calendar).
The local cultural practitioner Johan Perwiranto said that he and several people have proposed to the government to protect thus place. His team and him will appreciate the government if they put more concerns toward the cave sustainability.
Up until now, the cave hasn't been receiving more attention from the government. Its pretty sad that such this beautiful place with stunning view and captivating history of Goa Kalak or Kalak Cave Pacitan should have been neglected and left behind.(*)
---
---
| | |
| --- | --- |
| Publisher | : Ahmad Rizki Mubarok |
---