English
The Best Grilled Ribs, Iga Bakar Leleh by Hotel Kokoon Banyuwangi
Jumat, 27 Agustus 2021 - 04:07 | 20.12k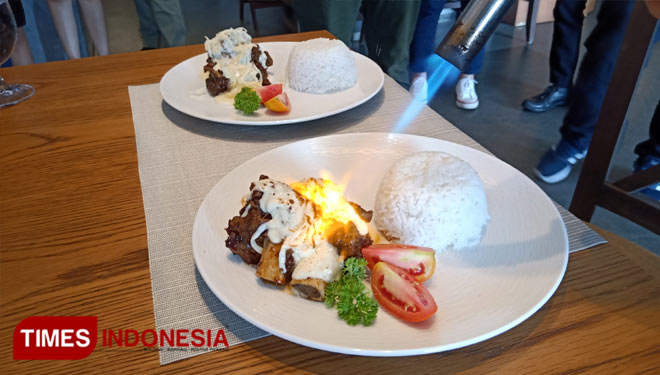 TIMESINDONESIA, BANYUWANGI – Hotel Kokoon Banyuwangi presents super tender grilled ribs, Iga Bakar Leleh, that will pamper your palate. This scrumptious dish is served at Ijen Restaurant, the restaurant with a food hall concept in Hotel Kokoon Banyuwangi.
Hotel Kokoon Banyuwangi is a four-star hotel located on Jalan Raya Jember 7 in Dadapan Village, Kabat sub-district, Banyuwangi. This hotel always creates the best and the most unique innovation to impress the guests.
The Marketing & Communication Manager of Hotel Kokoon Banyuwangi, Yossie Christy Thenu, said that Ijen Restaurant at Hotel Kokoon Banyuwangi serves high quality dishes with affordable prices.
"Our newest menú, Iga Bakar Leleh, only costs IDR 55,000. We have other affordable dishes that range from IDR 5,000 to IDR 85,000," said Yossie.
Besides, Ijen Restaurant also presents live cooking, which means that it helps the guests in customizing their favourite dishes from the existing menu. In addition to the scrumptious dishes, you can enjoy the eye-pleasing view of Mount Ijen scenery from the restaurant.
Ijen Restaurant opens every Monday to Friday, from 12.00 PM to 8 PM. You do not need to worry about the spread of Covid-19, as Hotel Kokoon Banyuwangi has been implementing the strict safety and healthy protocols.
"We have successfully obtained CHSE certification from the Ministry of Tourism and Creative Economy," said Yossie.
Chef Jerry Irwandoko expressed his compliment on the super tender Iga Bakar Leleh by Ijen Restaurant. He said that Ijen Restaurant at Hotel Kokoon Banyuwangi serves the super tender grilled ribs that is second to none.
"Iga Bakar Leleh has a perfect combination of traditional cuisine and European cuisine. The meat is well-processed, and the ingredients are high quality," said Chef Jerry.
The ribs are well-cooked. It is so tender that the meat falls off the bone. Then, the grilled ribs are drizzled with mozzarella cheese sauce.
"For the finishing touch, we use portable torch to melt the cheese and the meat," he stated.
The guests are allowed to customize the grilled ribs by choosing the available ingredients, such as sauces, dressings, and any other condiments.
"The guests are allowed to choose whether they want to eat the grilled ribs with rice or potato. For those who are on a diet, they may choose vegetables to eat with the grilled ribs," he stated.
Isn't it interesting? Come and enjoy the best grilled ribs, Iga Bakar Leleh with the affordable price at the four-star hotel, Hotel Kokoon Banyuwangi. (*)
---
---
---