English
How to Maintaining Harmony among Papuan? the Cultural Approach, an Important Way
Jumat, 20 Agustus 2021 - 08:01 | 35.86k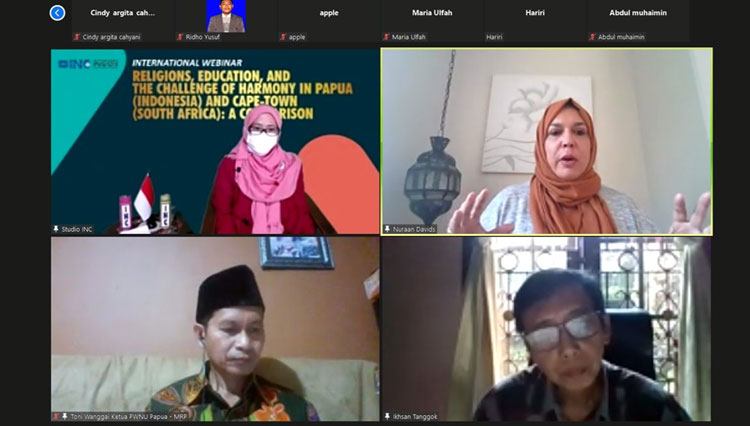 TIMESINDONESIA, JAKARTA – There are important values among Papuan people, namely one furnace three stone. Those values containing government, adat (culture) and religion. While religion is a fundamental part of socio-cultural system in society, it has also been identity of Papuan.
In other side, the concept of "three stone" is also commonly associated with the three religions; Islam, Christianity and Catholicism. So, in order to maintain this principle, the role of education is an important step for its sustainability, especially to establish of harmony in their life.
Through education, the values ​​of togetherness and brotherhood on the basis of humanity are inherited and taught to new generations in Papua.
This is excerpted from an international webinar entitled "Religions Education and the challenge of harmony In Papua-Indonesia and Cape-Town-South Africa: A comparison which invited Papuan leaders and South African scholars.
According to a South African scholar, Prof. Nuraan Davids, South Africa has a historical relationship with Indonesia where many immigrants came from various countries, one of which was from Indonesia. Since the apartheid era, Muslim education has developed in two ways, namely education in mosques and in Muslim schools. These developments continued to occur during the Post Apartheid period and during the reformation period.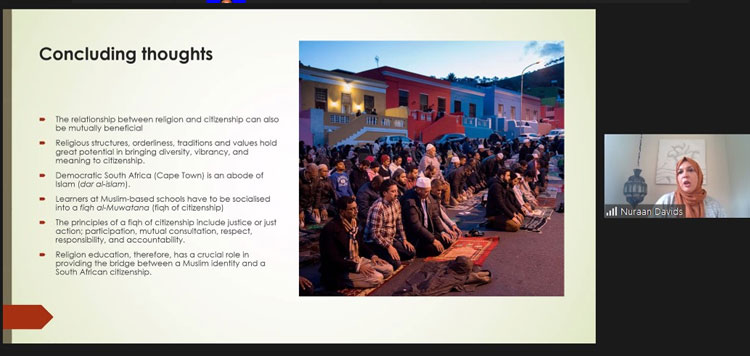 He also appreciated the harmonization in Papua. According to him, harmony in Papua, the Muslim community in South Africa, especially in Cape Town, take positive examples from the Muslim community in Indonesia because of their very close history. Muslim and Christian communities blend well, and there is an awareness to create interfaith dialogue. Interfaith marriages also strengthen the bonds between different religions.
"Religious education has a crucial role in providing a bridge between the identity of a Muslim and that of a South African citizen. The principles of civic fiqh including fairness, participation, respect, responsibility and accountability, are very important to maintain harmony. Teachers have a role in forming productive and responsible citizens. diverse teacher identities will broaden students' perspectives. The more diverse the identity of the teacher, the more harmony will increase. Religious education is very important to increase the harmonization of diversity," the Professor of Philosophy of Education in the Department of Picy Studies at Stellenbosch University, South Africa explained.
Likewise in Papua, according to the chairman of the PWNU Papua, Dr. H. Toni Wanggai, Islam has existed in Papua since the 15th century through interaction with the Tidore Kingdom. Then in the 16th century formed Islamic kingdoms located in Raja Ampat.
Waggai said that the relationship between Islam and Christianity in Papua is very harmonious which has been going on since 200 years ago, where the Sultan of Tidore escorted Christian missionaries from Germany Otto and Greisler in Papua in 1855the cultural approach taken by missionaries through a cultural approach, including translating the Bible into local languages, resulted in Christianity growing faster.
"Harmony in the Papuan government is also reflected in the term 1 furnace 3 stone, where the 3 stone represent Islam, Christianity and Catholicism. The distribution of power is carried out on this basis with the Christian Governor, Muslim Representative, Catholic Regional Secretary or vice versa," a member of the MRP (Papuan People's Assembly) was said confirmly.
This cultural approach continues to be inherited through various channels, especially education. According to anthropologist Ikhsan Tanggok, tolerance and harmony between religions in Papua occurs in everyday life and educational institutions such as schools and universities. there are three Islamic educational institutions that have an important role in creating harmony and tolerance in Papua, namely Nahdlatul Ulama, Muhammadiyah, and Yapis.
"Papua has a tradition that is thick with tolerance, one of which is burning stones. The tradition has a deep meaning, namely as an expression of gratitude to God and a symbol of strong solidarity. Burning stones can also be used as a medium of peace between warring groups. The people of Fakfak West Papua have a philosophy introduced by their ancestors, namely one furnace three stone. the furnace is a symbol of life, while the three stone are a symbol of 'you', 'me', and 'he' who have different religions, ethnicities, social status in one place of brotherhood. Another symbol of harmony is the Patimburak Mosque, in Patimburak Village, Fakfak, West Papua. Patimburak Mosque was built by King Pertuanan Wertuar in 1870. The architecture of this mosque is very unique because it is a combination of a mosque and a church. This mosque was built by three religious groups, namely Islam, Catholic and Protestant," explained by the professor of UIN Jakarta.
"From the presentations of the speakers, we are increasingly convinced that the people of Papua, Indonesia and Cape Town, South Africa, live in peace and tolerance and have a pattern of education and tradition in resolving conflicts with local wisdom. the idea of ​​religious tolerance is not difficult, because the teachings of each religion teach about mutual recognition and respect for others. Differences in language, religious culture and even ethnicity are acceptable," said researcher Indonesia Moslem Crisis Center, Maria Ulfa, MA.
This International Webinar was attended by speakers including Prof. Nuraan Davids PhD, (Professor of Philosophy of Education in the Department of Poliicy Studies at Stellenbosch University, South Africa), Dr. tony Wanggai (Chairman of PWNU Papua, Member of the Papuan People's Assembly –MRP) and Prof. Dr. Ichsan Tanggok (Professor of Anthropology at UIN Jakarta), and guided by Maria Ulfa, MA, M.Hum (researcher of the Indonesian Muslim Crisis Center and Lecturer of UIN Jakarta).(*)
---
---
| | |
| --- | --- |
| Publisher | : Ahmad Rizki Mubarok |
---