English
Watch Out, This Bolu Kijing Cake will Make You Want for More
Jumat, 06 Agustus 2021 - 06:02 | 23.80k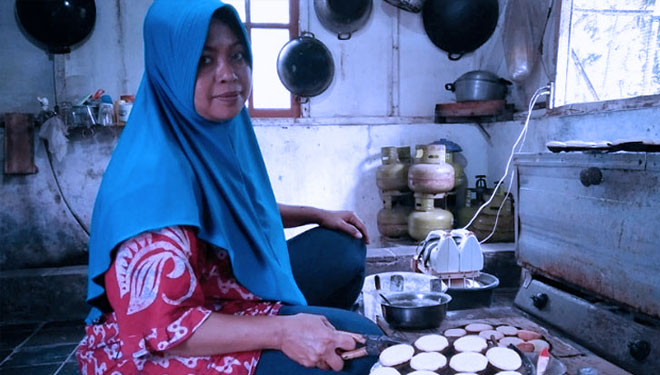 TIMESINDONESIA, PANGANDARAN – You might be surprised for this humble cake namely known as Bolu Kijing Bang Opan of Padaherang, Pangandaran has stolen everyone heart with its taste. The humble look and place of production will never make you think that this cake was just some ordinary cake you could found in any bakery.
This cake was made by Oom Komalasari, a local community of Padaherang , Pangandaran, West Java. Bolu Kijing has stolen the customers hearts once they taste it including the former Minister of Fishery of Indonesi Susi Pudjiastuti. Up until now, the lady keep put her order to Oom to make her her favorite cake.
"I was so surprised. One day someone came out of his fancy car and order 350 pieces of Bolu Kijing. Turn out he was one of Bu Susi's man. I couldn't even believe d when he said who he was," Oom said on Tuesday (3/8/2021).
Bolu Kijing is such a cake like chiffon cake in smaller version. The shape is just look like a cup cake but with chiffon cake taste. The taste, the texture, and a small bite sized has made the ex minister of Fishery falling in love to Bolu Kijing.
The story begin when a local guy named Sholeh purchased Bolu Kijing for a present for the Mayor of Pangandaran. When Susi visited Pangandaran's town hall, the mayor happened to served the cake for her. Going forward, Susi seemed like to be enchanted with its taste.
Doing the order, Oom was a bit nervous about the cake. She still couldn't believe that she made the chiffon cake for some public figure and politician like Susi. Nevertheless , she feel very grateful and proud of herself for the cake was loved by someone like Susi. It's practically boost her confidence in spreading her wing towards the cake.
Before the pandemic struck the country, Oom could take up to IDR 500 K in a day. But after the pandemic, she could only managed to get not more than IDR 100 K in a day from selling Bolu Kijing Bang Opan Pangandaran. However, whether its pandemic or not, the taste of this chiffon cake will stay tempting and make you want for more.(*)
---
---
| | |
| --- | --- |
| Publisher | : Ahmad Rizki Mubarok |
---