English
UIN Malang
UIN Malang: 5 Easy Ways to Deal with Some Problems
Sabtu, 03 Juli 2021 - 04:08 | 13.70k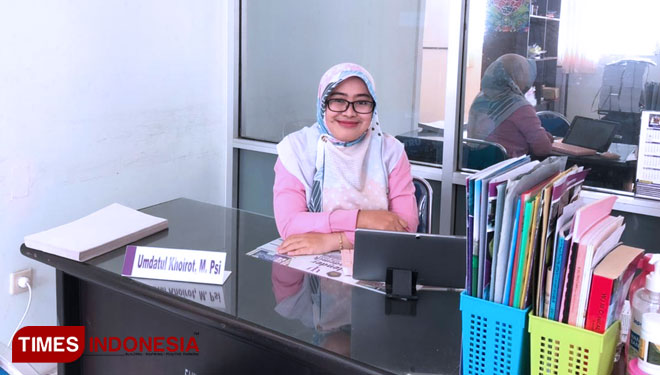 TIMESINDONESIA, MALANG – Some people will have lack of self esteem to deal with their problem. They might be sweating and become nervous and couldn't trust them self if they can do it. And this has become such a concern for a professor of Psychological Faculty of UIN Malang, Umdatul Khoirot, M.Si., Psi.
Umdatul put so much concern towards this issue. According to her, if this kind of issue didn't get a proper treatment if could be danger for them. They could destruct their self esteem and be some one who always.
For those issues, Umdatul has several ways on how to to deal with your problem. To face it instead of running from it. These are easy steps you could do your own to handle your problem easier.
FOR MORE INFORMATIONS ABOUT UIN MALANG PLEASE VISIT www.uin-malang.ac.id
1. Understanding yourself
Start with understanding who you really are, what you need, and the best to deal with some problem you have. This is way important, for it will give you some silver line on how to understand yourself. It will help you to resolve your own problem and find out the trigger. It will give you a way out of depression and more serious problems.
2. You're just a human
Raise your awareness that you're just a normal human not a robot withoul a soul or may be an angle who always do a good deed to others. It's good to be a good person but sometimes people made mistake. And you need to get away from those who can't accept you for who you are.
FOR MORE INFORMATIONS ABOUT UIN MALANG PLEASE VISIT www.uin-malang.ac.id
3. Assessing your problem
Just remember that there has always been a way out to every problem. All you need is to assess your problem, and find the right solution for it. This will help you to think faster and do everything in effective way.
4. Just see what happen
Sometimes things could get rough or easier. You just need to see what would happened next. Sometimes you need to hang on alittle to wait for the perfect time to solve your problem. But sometimes you need to just let go. Just see what happen and decide which one you need to take.
FOR MORE INFORMATIONS ABOUT UIN MALANG PLEASE VISIT www.uin-malang.ac.id
5. Find some support
Sometimes people need some support from others. The best support is from God. After doing your best to your problems, you can rely God to do the rest. It doesn't mean that you hive up on it, you just let God do his magic and see what would happen.
So, those are 5 ways to handle or deal with your problems according to Umdatul Khoirot, M.Si., Psi, a Professor of Psychological Faculty of UIN Malang. And believe that live is always prettier when you face your problem and not run from it. (*)
---
---
---