English
Have You Ever Been to One of These Satay Restaurants in Malang?
Selasa, 08 Juni 2021 - 01:08 | 16.72k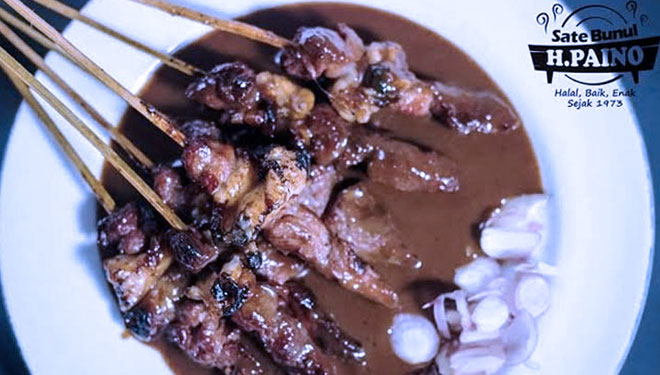 TIMESINDONESIA, MALANG – With its exotic taste, nice smell, exotic look on skewers, satay has always been one favorite dishes to choose during your dining. Malang, East Java has hundreds of satay restaurants, stalls, cafeterias, ir even street food vendors that serve this delicacy.
Legend has it that Satay has been taken to Indonesia from Tamil, Gujarat in 19th century. They were coming for trading and while they stayed they made this elicits dishes which has been adjusted to the local taste for now.
In Malang, satay will be served on skewers, grilled on a long charcoal grill after marinated with local herbs and spices. It then served with a nice taste of sweet and spicy peanut sauce. Without any further do, let's check those satay restaurants in the city.
1. Satay or Sate Bunul Paino
As its name, Satay Bunul Paino located at Bunul, Malang, next to Bunul conventional market. This restaurant has several chain restaurants in Malang, like those at Jalan Randuagung No. 62-64, Singosari.
This place has become the locals favorite place to go for satay. The satay has a tender texture and you won't even notice that you were chewing a Lamb. This delicacy could be enjoyed for IDR 15 K/set. The restaurant opens daily from 12.00 p.m to 21.00 p.m local western times.
2. Rumah Makan Cairo
This restaurant served middle east foods especially those made of mutton including satay. The restaurant which has been established 1953 opens daily, on Thursday and Fridayit opens on 13.00 to 22.00 local western times, while on Saturday and Sunday it opens on 08.00 to 23.00. You could find the restaurant at Jalan Kapten Piere, Klojen, Malang.
3. Warung Sate Pak Sabar
Located at Jalan Mayjend Panjaitan, Klojen, Malang this restaurants served mutton and chicken satay. But you need to be a little bit patient for you need to stay in line for your turn. This restaurant opens daily from 19.00 to 23.00 local western times.
4. Sate Ayam Ponorogo Siboen
Unlike the other satay restaurants in Malang, this restaurant has a nice distinctive peanut sauce like those Ponorogo community has. But don't worry, it still gives you the exotic satay taste. This restaurant located at Jalan Kawi Atas No. 27, Malang.All these satay restaurants will give you the best taste of satay you will ever have. You need to visit one of them or either all of them just to find out yourself while yiu were in Malang.
---
---
| | |
| --- | --- |
| Publisher | : Ahmad Rizki Mubarok |
---