English
Experience Aperitif at JW Marriott Surabaya
Kamis, 03 Juni 2021 - 03:49 | 35.35k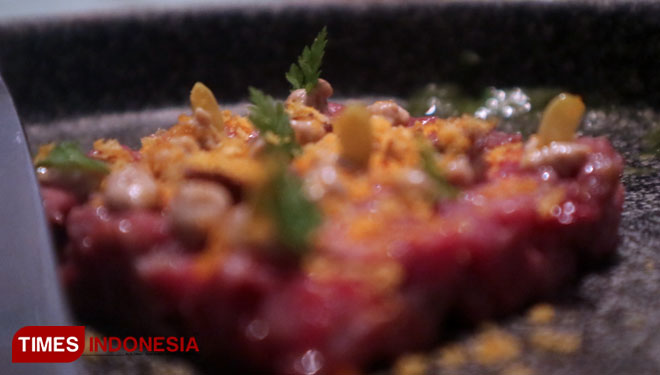 TIMESINDONESIA, SURABAYA – The most popular fine dining restaurant in Ubud, Apéritif presents its collaboration debut at Uppercut Steakhouse by JW Marriott Surabaya. This event will be held for two weeks, from 1 to 13 June 2021.
The award-winning restaurant for the Best Restaurant in Indonesia by World Culinary Awards 2020 will be led by the Executive Chef Nic Vanderbeeken, accompanied by the talented Restaurant Manager and Aperitif Restaurant Manager, Sommelier and Made Yudiana.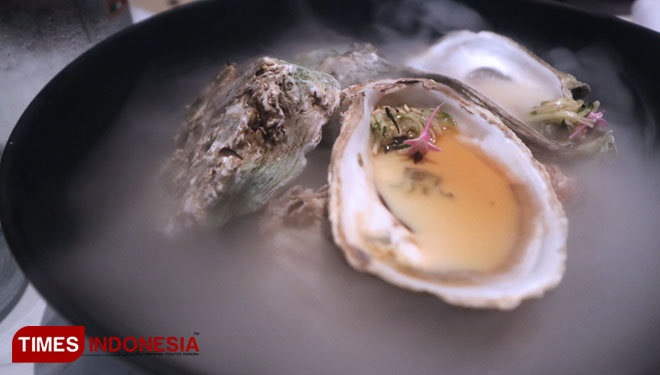 Yummy, the hot served Oyster Chawanmushi. It tastes umami and soft, Tuesday (1/6/2021). (PHOTO: Lely Yuana/TIMES Indonesia)
"Aperitif serves the best global contemporary dishes with culinary heritage and various authentic ingredients from Indonesia," said Vanderbeeken on Tuesday (1/6/2021).
All visitors can experience a wide variety of authentic, classic, and classy menus of vintage fine dining.
With heavenly sets of appetizers, such as Coconut Charcoal Puff and smoked fish and crème, Betelnut Leaf Tempura, a mixture of yuzu kosho, chili, cucumber, and snapper that melts in your mouth. This appetizer comes in small size enough for one bite.
The second course, the Oyster Chawanmushi is the mixture of processed seaweed, dashi, and roasted nori served hot. It comes with a soft and umami taste.
The next dish is the Red Snapper. The main ingredients of red snapper, basil oil, succulent, Leche de Tigre, and pindang seasoned soup. It looks like a sushi roll and tastes out-of-this-world as soon as it is served on your table.
Another heavenly delicacy available here is the Martino. This Belgian beef dish is made with beef tartare, pickled cucumber, black garlic emulsion, and cured egg yolk. It has a soft and juicy texture.
The Executive Chef, Nic Venderbeeken even came to the guests' tables to introduce this signature menu directly, so the customers can feel the sensation of the dishes filled with love from their maestro.
The next course, Mushroom Forest is made with cabernet sauvignon, hibiscus, shimeji, and shiitake, served together with cherry tomatoes, burrata, arsik, crisp quinoa, and zucchini. Waiters will also offer you basil oil on top of the dish for a stronger taste.
For the main dish, Venison Wellington came as the trump card. The mixture of foie gras, eggplant, rendang, and mashed potato.
Venison Wellington blends delicious game meat with Indonesian specialty rendang in buttery pastry wrappers and part of foie gras inside.
"Each dish will combine modern gastronomic palate," said Nic Vanderbeeken.
There was also the Opu Fish. It is made of hijiki, smoked dashi, miso glaze, and broccoli.
The dish was completed with Chocolate Bounty dessert. Made with 70 percent guanaja, peanut caramel, coconut sorbet, and Malibu sabayon. Also, milk and honey from buttermilk, yogurt, white chocolate, and honey or Petit Fours' cashew praline and red velvet cake become the final menu of the taste exploration in Aperitif.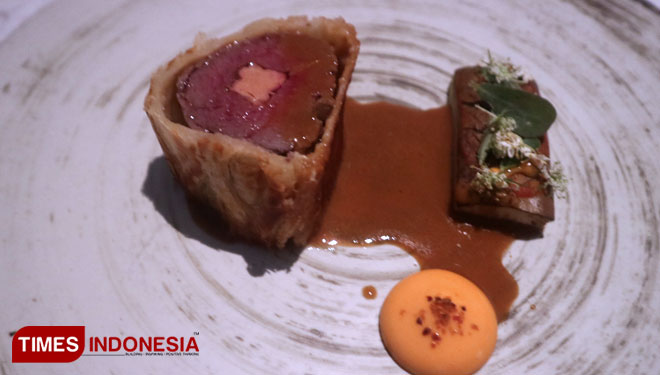 Venison Wellington combines the delicious game meat with rendang flavor from Indonesia, Tuesday (1/6/2021). (PHOTO: Lely Yuana/TIMES Indonesia)
For culinary lovers in Surabaya who are longing for the Aperitif experience in Viceroy Bali can book their visit immediately. This event will be available in three sessions. The first session is a lunch session from Wednesday until Saturday 2-5 June and 9-12 June. All visitors can enjoy all of the menus for IDR650,000++.
Lunch will be served on Sunday, 6 and 13 June with the price of IDR695,000++ for five menus and dinner with eight menus. Aperitif's classic course will also be available every day from Wednesday until Sunday, 2-6 June and 9-13 June with the price of IDR1,095,000++.
For those who are looking for a private dining experience, there is also Intim Chef's Table on Wednesday 2 and 9 June and Chef Take Home on Tuesday, 1 and 8 June.
With current trip limitations, the restaurant takeover will give all culinary lovers a perfect opportunity to explore the Best Indonesian Restaurant in Surabaya.
For further information, contact the reservation officer in JW Marriott Surabaya. Get ready to experience an unforgettable culinary trip, where Chef Nic and his team create an eclectic combination of global cuisine and local taste in Aperitif.(*)
---
---
| | |
| --- | --- |
| Publisher | : Ahmad Rizki Mubarok |
---