English
Top 3 Meatball Shops in Pasuruan You Need to Check
Jumat, 21 Mei 2021 - 06:22 | 19.14k
TIMESINDONESIA, PASURUAN – Meatballs has become one popular dishes to have in the country. Even in Malang and Surabaya, you will find that it's normal to have people have this kind of dish for breakfast or brunch. Not very much different, Pasuruan, East Java also has this tradition. This city serves a nice taste of meatballs with a super affordable price. Check them out.
1. Bakso Bengawan Solo
Don't expect you will be sitting in a luxurious restaurant or a modern shop with contemporary design, you will be taken to a humble shop with old school stalls as well as the table and benches. Located on Jl. Raya Sidogiri, Getas, Tambakrejo, Keraton, Pasuruan, thus shop however offers a delicious fresh springy broth with a nice smell of celery.
A set of this meatball contains 5 meatbals with a little bit of glass noodle dipped in super nice taste of broth. With the extraordinary taste it has, you could enjoy this meatball for IDR 13 K/set.
2. Bakso Pirang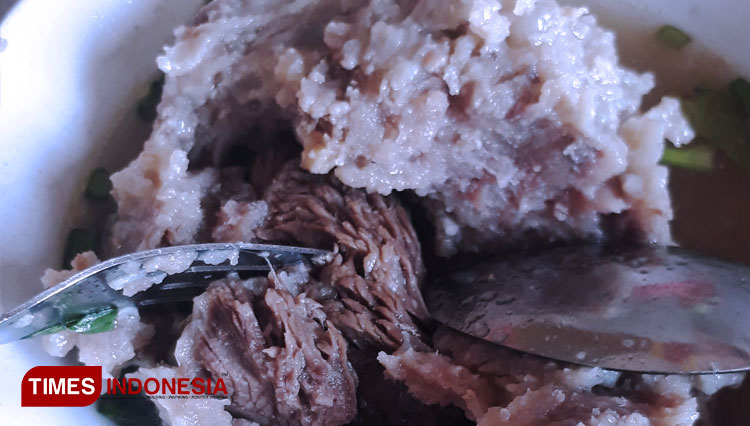 Chunks of meat in Bakso Pirang or Pirang Meatball Shop. (Photo: Khodijah Siti / TIMES Indonesia)
Located at Jl. Raya Wonorejo, Pasuruan, 500 meters before Wonorejo market if accessed from Malang, this shop is a humble e shop which will surprise you with its Beef Ribs Meatballs.
This shop has never run out of customers. The huge size of the meatballs plus the super affordable price has attracted people to visit or come back to this place. You could have a set ofbit for IDR 15 K. A
3. Bakso Bowling
Located right in front of Pondok Al Yasini exactly at Jl. Ponpes Al Yasini, Ngabar, Kraton, Pasuruan, Bowling Meatballs have lots of meatball variants to choose. Starting from bakso beranak for IDR 18 K/set, or the regular or super spicy meatballs for IDR 14 K/set.
With distinctive taste and variants, these 3 shops become one recommended meatball shops to go while you were in Pasuruan. (*)
---
---
| | |
| --- | --- |
| Publisher | : Sofyan Saqi Futaki |
---