Kuliner
Taste the Super Spicy Smoked Tuna with Curry Gravy at Esto Coffee Malang
Senin, 10 Mei 2021 - 01:03 | 50.36k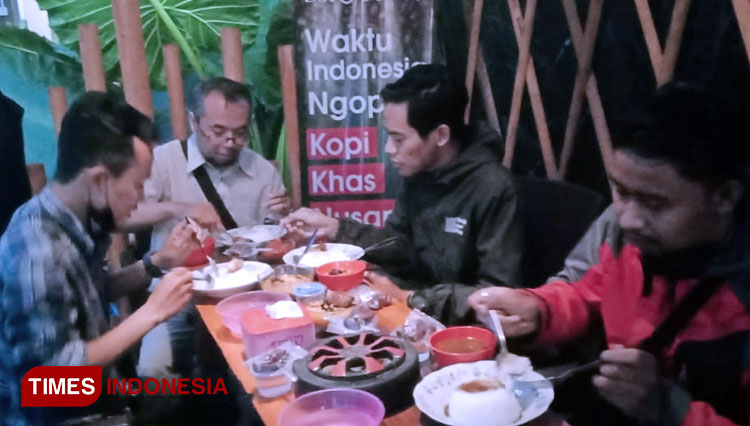 TIMESINDONESIA, MALANG – Would you like to have a cup of Coffee while enjoying a full plate of tasty delicious super spicy smoked tuna with curry gravy? Well you could have this exotic dish at Esto Coffee Malang. This Cafe will make your never stop chewing for this food.
Esto Coffee is a cafeteria located at Bululawang, Malang. As its name, this cafe serves coffee as their signature beverage. But as the time goes this cafe expanded their menus and added more variant to their list.
Surprisingly, people seems fallen in love to their foods. Especially with the super spicy smoked tuna. The spicy taste combined with nice smell of smoked tuna make this dish taste more exotic.
"It's good. It makes you dig in for more. And such this food is perfect to be served during iftar or some occasional gathering like this," Rizky Kurniawan Pratama, one of the customers of Esto Coffee said during his dining.
Rizky said that this cafe could be one perfect alternative place to hold some social occasions. The classic design and warm light make this cafe some some kind of comfortable atmosphere and look so classy.
There are two venue that you could choose, the indoor and outdoor. Any of those will give you nice experience. But the most popular spot is the a railway coach like with a nice and cozy sofa.
But for those who would like to enjoy their dining at this place you need bto reserve it before it's taken. You could also sink the grass bed with nice cozy cushions while enjoying the nice natural greenish scenery.
"We put the food taste and quality s our main considerations. But the atmosphere such as those down to earth way of sitting on the grass bed with nice sofa has become another attraction in this cafe," the General Manager of Esto Coffee Malang, Irfan Isbandi said.
For a set of super spicy smoked tuna with curry gravy of Esto Coffee Malang, you will only need to pay around IDR 25 K. And what more surprising is, all the foods in this cafe is so affordable. All of them are under IDR 30 K. (*)
---
---
---