English
This New Integrated Bus Station in Banyuwangi Became Internet Famous
Rabu, 05 Mei 2021 - 01:10 | 11.10k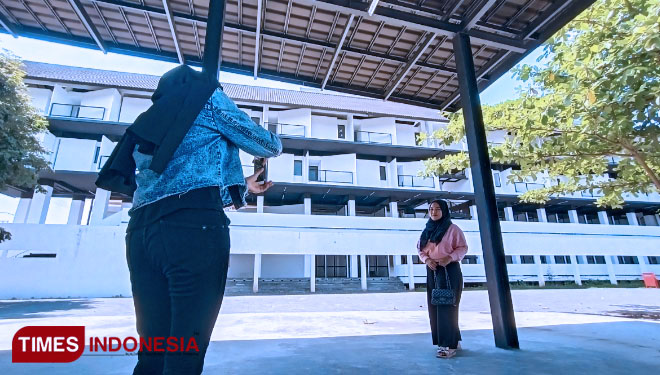 TIMESINDONESIA, BANYUWANGI – The local government of Banyuwangi turned an old conventional market into a nice integrated bus station. This bus station was formerly known with Pasar Sobo or Sobo Market. And with its new look lots of people has coming to this place for some picturesque spots for their selfie.
Two girls were spotted walking around the bus station to inspect some corner of it. They sometimes took some selfie and check the results. "I just like it, it's nice and has lots of interesting spot for selfie," Destya Rahma Dani (20), a local girl said on Sunday (1/5/2021).
Destya explained that she found lots of picturesque picturesque corner which make the building looks stand out in your camera. "There are lots of empty place around, at the stairs, upper floor and the yard," it hives me nice view for my picture," she added.
Intan Dwi Estri Octaviani (20), another local girl said that she love to spend her spare time in this place with her friends. "I spend more time in this place especially during Ramadan while waiting for the iftar to come," she said.
She also said that she has an interest in photography and could find nice space to do her hobby. "It seems to challenge me to find new spots for my photography, especially with its stunning tall building," Intan added.
Meanwhile, while in the process of renovation this area we're meant to be an integrated bus station with hotels, souvenir shops, and cafeteria. There will be tourist information center located in the area, and some travel agents office located at the same place.
We don't know what makes this integrated bus station hasn't been occupied up until now. Let's pray for the best so Banyuwangi could have one nice integrated bus station. (*)
---
---
| | |
| --- | --- |
| Publisher | : Ahmad Rizki Mubarok |
---