English
Mr D Exhibits His Arts in Commemorating the National Education Day
Minggu, 02 Mei 2021 - 19:07 | 19.93k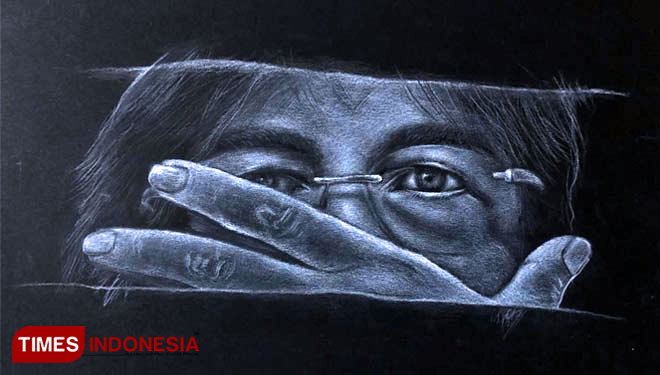 TIMESINDONESIA, MALANG – Mr D has been well known as an artist with beautiful sketch which bring it seems to live. And in order to commemorate the National Education Day (Hardiknas) 2 May 2021, he exhibits some of his art works online to celebrate this day.
In this exhibition he brought out the Google theme entitled Living and Death. The virtual exhibition could be checked at sketsabergerak
"People are relying on Google nowadays. Especially for education. And I draw something form it," Mr D explained on Sunday (2/5/2021).
It can't be denied that lately Google has become a main source of knowledge where they could ask everything on it. This is the real issue that occur in the society nowadays.
However, there is still a chance that the education system will go back to normal as it were. Mr D said that those online learning had taken away the soul of the students. It feels plain without having a chance to meet their friends and teachers in person.
"Wr need to bring back those feelings. And it could only be achieved when they met their friends and teachers in person. Do some interactions, knowing their social community, and more," Mr D added.
Beside a well known artist, Mr D is also a musician. He plays a guitar and put the music into the exhibition which make it more lively. He is just super creative guy with lots of ideas about art and music.
During this exhibition, Mr D invited Jim Supangkat, a local artist which happen to be born on the same day as the National Education Day on May 2. "He is Indonesian master art, he is an international artist and has lots of experience in art," Mr D said.
As a matter effect, this exhibition could be enjoyed anytime anywhere as long as you have internet connection. On this exhibition he planned to display 343 of his art on the Instagram account. "It has no time limit, I will upload depends on my mood," Mr D ended. (*)
---
---
| | |
| --- | --- |
| Publisher | : Ahmad Rizki Mubarok |
---