English
UIN Malang
Libyan Professor Grants the Rector of UIN Malang with Precious Book
Senin, 26 April 2021 - 21:02 | 8.10k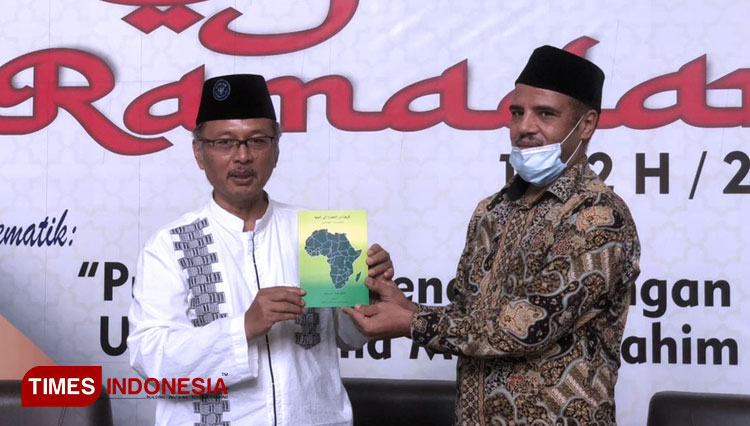 TIMESINDONESIA, MALANG – A Profesor from Libya, Dr Sulaiman Alhasani grants the Rector of Universitas Islam Negeri Maulana Malik Ibrahim Malang (UIN Malang), Prof. Dr. Abdul Haris, M.Ag with a book he wrote before he went to the country.
The book entitled Al Alfrikiyan Minal Hadharah ila At-Tabi'iyyah or Africa: from the Rewl Civilization to Heteronomy: Hwteronmy Political System. The professor has been a lecture at UIN Malang for several years after departing from Libya through exchange programs.
FOR MORE INFORMATIONS ABOUT UIN MALANG PLEASE VISIT www.uin-malang.ac.id
"This is the first book I get from foreign Profesor. During his time of teaching he has also written another book which has been translated into Bahasa," Prof. Abdul Haris, the Recyor of UIN Malang, said on Monday (26/4/2021).
According to Haris, this books discuss about the political and law condirikn in Africa. It explained about the main effect of colonialism to the country for all those years which they still could feel till now.
The colonialism haa given a major impact to the political, economical and law system of Libya as well as the social aspects. "It also explain about how we're Africa before the colonialism time," Prof Abdul Haris Haris added.
At the same time, Dr Sulaiman Alhasani also explained the book himself. According to him rhe book was also discussing how colonialism ripping off their human resources and enslaved them.
FOR MORE INFORMATIONS ABOUT UIN MALANG PLEASE VISIT www.uin-malang.ac.id
Despite all of those things, they also steal their natural resources which they still do till now. Those anttural resources such as gold, uranium, and more. They took it all and didn't even left a penny for African development.
Dr Sulaiman hope that his book could bring some enlightens to the local community in Libya especially in politics by accentuating the local wisdom. All these years they just being blinded by western political thought which only bring them some damage and divide their unity.
"We do really need this kind of book for discussion. This book reveals some secret we never knew about coloin Africa. And I hope that the students could learn something from this book," Prof. Abdul Haris, the Rector of UIN Malang ended. (*)

---
---
---