English
Panrita Lopi Beach, a Hidden Paradise at Kutai Kartanegara
Rabu, 14 April 2021 - 03:04 | 14.93k TIMESINDONESIA, SAMARINDA – Kutai Kertanegara, East Kalimantan doesnt want to left behind to introduce their tiurist destination. This time we will bring you for a look closer to Panrita Lopi Beach. This Beach offers stunning beauty of local scenery.

Located 62 kilometers from Samarinda, this beach could be reached within 2 hour drive from the city centre. It's exactly located at Pangempang Island, Tanjung Limau, Muara Badak, Kutai Kartanegara, East Kalimantan.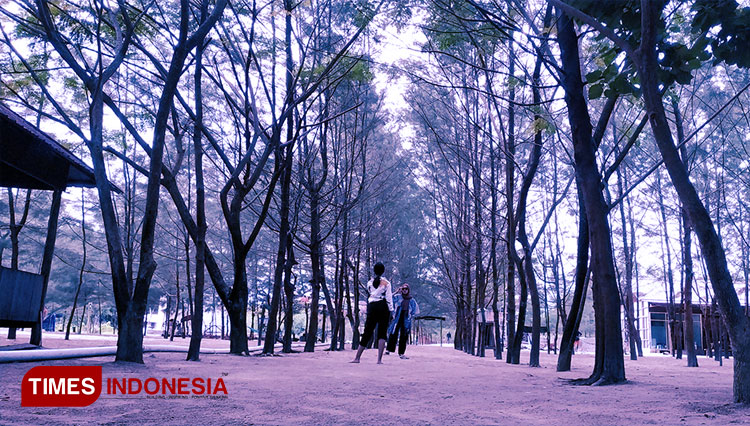 A lush green pine trees next to Panrita Lopi Beach becomes a nice spot for selfie. (PHOTO Syahir/TIMES Indonesia)
You need to take a boat for at least to 5 minutes to reach the Panrita Lopi Beach dock. The lush green pine trees around the beach will drop your jaw from amazed. The visitors used to use this spot for their selfie. There has been lots of beautiful moments captured and made in this area.
There will be around 300 visitors during the weekend registered at their attendance book. "In a normal day we could take around 3000 visitors on the weekend, but during this pandemic we only take 30 percent of them," Daeng Lompo, the manager of Panrita Lopi Beach said.
Still according to Daeng, the beach has been equipped with proper public facilities such as restrooms, some shades, and a stage in case there is some people would like to hold their performance at this beach.
Beautiful ambience at Panrita Lopi Beach in the late afternoon. (PHOTO Syahir/TIMES Indonesia)
You could spend Your time with your family or friend walk around the beach and enjoy the soft white sand it has. You could also take your kids to play with the sand And make a castle out of it.
The management also have some camping facilities that you could rent to enjoy the night ambience at Panrita Lopi Beach. This will be a nice experience to have, listening to the sounds of calm waves, breezy winds, and looking at the night stars.
For all these exotic experience you don't need to spend much money on it. You could have this experience for not more than IDR 50 K/pax including the ticket, boat rise to the beach and camping facilities.
If you are lucky enough and the weather were friendly, you could be the witness of a stunning sunset on the beach. And in the morning Panrita Lopi Beach of Kutai Kartanegara, East Kalimantan will wake you up with a beautiful Sunrise kn the east. (*)
---
---
| | |
| --- | --- |
| Publisher | : Sofyan Saqi Futaki |
---