English
UIN Malang
UIN Malang Invited a Professor from Malaysia for Their Guest Lecture
Selasa, 06 April 2021 - 13:24 | 2.06k

TIMESINDONESIA, MALANG – The Sciences and Technology Faculty of UIN Malang conducted their online guest lecture program by Tuesday (6/4/2021). During this occasion they invited Azzam Mat Isa, a Professor from Universiti Teknologi MARA, Malaysia.
FOR MORE INFORMATIONS ABOUT UIN MALANG PLEASE VISIT www.uin-malang.ac.id
"I believe the students has some courage in them. When they have it, they won't give up on their study . And of course the decision was made with such consideration," Azzam Mat Isa, PhD, during the online class.
Azzam Mat Isa explained that the global competition and the demand of transparency has made every organization I the world become more competent and transparent in doing their business. And it cannot be denied that at the same time, the demand for sophisticated technology will increase.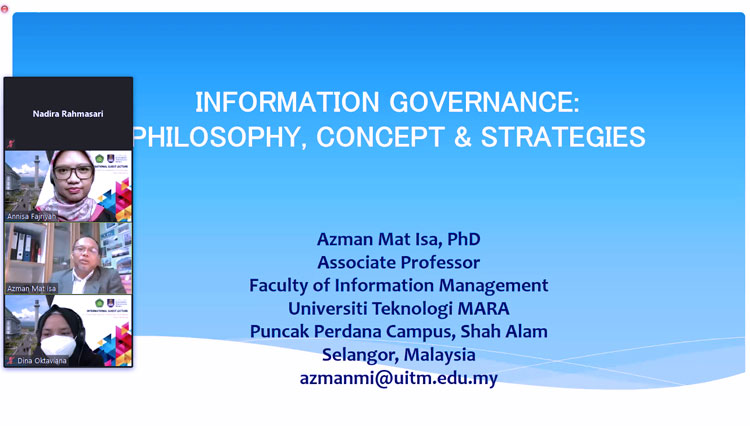 Still according to him, without the good management of sustainable digital information the organization will be like a blind person without their stick. "Information will lead to some conscience and give them some knowledge," he added.
Azzam Mat Isa explained, in Information Science, scientific disciplines are used to investigate the nature and behavior of information. It is used to amplify and regulate the flow of information by processing information for optimal accessibility and usability.
FOR MORE INFORMATIONS ABOUT UIN MALANG PLEASE VISIT www.uin-malang.ac.id
Tiward this matter, it should be that appreciating the significant benefits of effective records management can prevent and heal digital information that requires early intervention.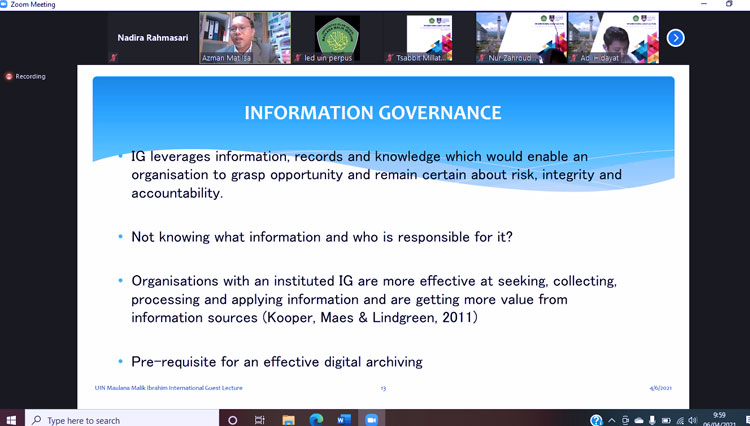 He emphasized that it has been such a must thing for Information Governance to use such information. Either it's in form of note, or some news and knowledge that allows the organization to get the chance and aware of the risk, integrity and accountability.
"So the output will be more effective and efficient, trustworthy, and on time with the availability of information," Azzam Mat Isa, PhD, said during the guest lecture class at UIN Malang.
---
---
---