TIMESINDONESIA, BANJAR – Saung Oemah, a sundanese restairat at Petaruman, Banjar, West Java odfers you an exotic experience of enjoying your meals. This restaurant will give you an authentic taste of local food which will make you want some more.
Saung Oemah was firstly opened since 7 years ago. The owner Buana Surya Kusumah or well known as Umah was one member of Indonesian Gotel and Restaurant Association. She would like to take the visitors to enjoy the local foods as well the culture.
Saung Oemah is located on the East wing of Banjar. It could be reached within 30 minutes from the city center. The restaurant is surrounded by beautiful natural scenery, from mountain chains to the lush of green trees and wide stretched rice field around the area.
Umah the owner of Saung Oemah (right) pose with her customers. (Photo: Susi/TIMES Indonesia)
Some saung, or shade with only some table and rug were prepared to accomodate your dining. Yes, you will be taken to enjoy their traditional way of dining with sitting on the floor. The shade was situated on a fish pond.
You could see the fish swimming on the pond underneath you through the bamboo floor while enjoying your food. The will also take some leftover food you have for them. It will be such a nice experience to have.
Meanwhile, for the menu, Saung Oemah has special spicy grilled fish, steamed rice, stir fry swamp spinach, spicy eel, and more. They also have tasty refreshing drinks or beverages to accompany your dining.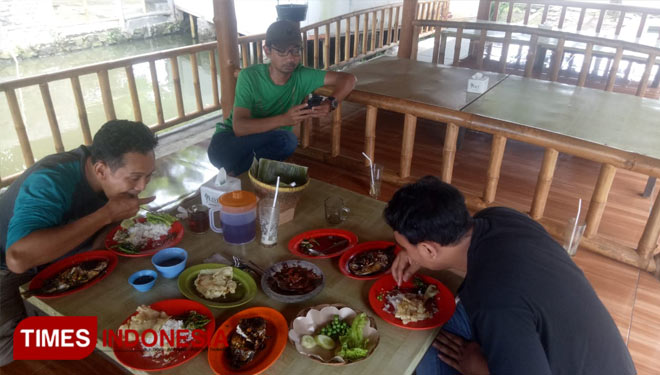 The customers enjoying their meal at one of the shade Saung Oemah provises for the them. (Photo: Susi/TIMES Indonesia)
Lots of people have come to this place to enjoy their food as well the exotic scenery. Some of them coming for gathering or meeting. This place has attracted people with it's own beauty and delicious food.
"We have a very affordable package for IDR 20 K. It includes rice, roasted chicken, tempeh, tofu, sambal, and raw veggies," Umah, the owner of Saung Oemah Banjar, West Java said on Sunday (4/4/2021). (*)
Anda butuh informasi program ini?
Hubungi News Commerce Room TIMES Indonesia di
08-822-2850-8611

KLIK
(WA Only)
---
---
---