English
Santerra De Laponte, the Must-Visit Flower Park in Batu
Selasa, 06 April 2021 - 02:20 | 13.65k
TIMESINDONESIA, MALANG – Santerra De Laponte flora tourism is a flower garden that has many kinds of colorful, beautiful flowers, such as Euphorbia, roses, hanging plants, Sansevieria and many more. During this pandemic, this tourist attraction opens daily from 8 a.m to 5 p.m. It is located in Pandesari Village, Pujon, Batu. To enter this tourist attraction, the visitors only need to pay for IDR 30,000 for one person.
Santerra De Laponte does not only have a myriad of plants, but it also has Korean and Dutch-themed buildings.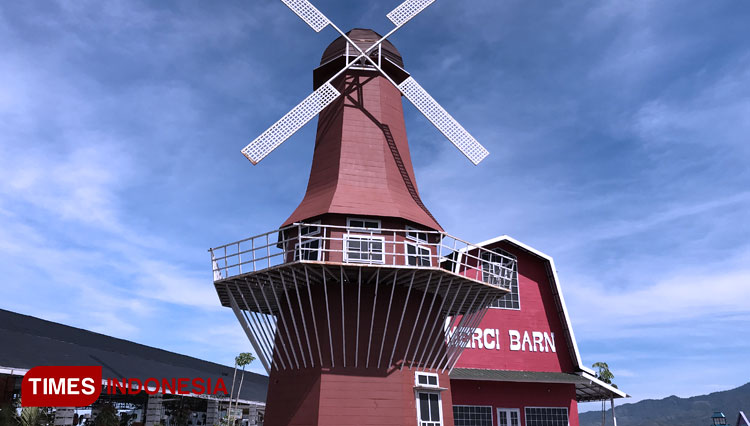 A Dutch-themed building with windmills (PHOTO: Ratu Bunga/TIMES Indonesia)
The flowers in this garden are the results of cross pollination between American and European flowers. When you arrive at this place, you will feel as if you are abroad.
In addition to that, Santerra De Laponte has other entertainments, such as cinema 7D, robots, and photo spots with the replica of dinosaurs. The colorful buildings with windmills will make the visitors feel as if they are in Netherlands. It also has Korean-themed buildings in form of Korean shops and Korean houses. These buildings will surely make you want to spend your time here, taking photos with your friends and family.
"I love the scenery. You can also relax at the cafes while enjoying the colorful flowers outdoor," said Rama, one of the visitors.
Indeed, Santerra De Laponte also has several cozy flower-themed cafes for the visitors to relax and enjoy some delicious foods after taking a stroll around the area.
One important thing to remember is that you are not allowed to smoke at Santerra De Laponte because they want to keep the air clean. (*)
---
---
| | |
| --- | --- |
| Publisher | : Sofyan Saqi Futaki |
---