English
Fishermen in Muara Badak Switch to Eco-Friendly Ponds
Sabtu, 03 April 2021 - 03:22 | 8.68k
TIMESINDONESIA, KALIMANTAN – The campaign to protect natural ecosystem is now increasingly widespread, even to fishermen. By protecting the environment, fishermen, especially pond fishermen or aquaculture fishermen, are now turning to environmentally friendly ponds. Just like all those fishermen at Muara Badak did.
Located at Muara Badak, Kutai Kartanegara, East Kalimantan, the fishermen started to repair and maintain the ecosystem around their ponds. Since the last few years, local fishermen have started to improve the pond ecosystem by planting mangrove trees. As a result, mangrove forests thrive to protect the ponds.
Head of the Salo Sumbala Forest Farmers Group, Ramlan, explained that for a long time, the pattern of intensification was quite well known in the fisheries sector, especially pond fisheries. The intensification pattern requires a large amount of inorganic feed from chemicals and is able to increase production yields.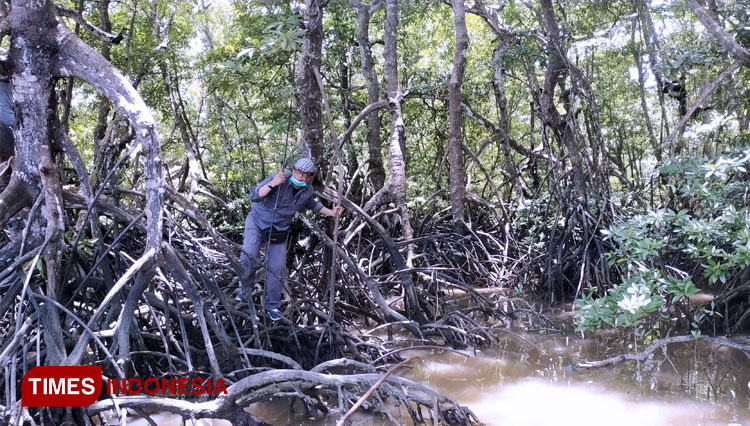 Mangrove trees that thrive in Salo Sumbala (Foto Syahir/TIMES Indonesia)
However, the environmental impact can have severe repercussions. The remaining fish feed that accumulates at the bottom of the pond will turn into poison. In addition, the intensification pattern also requires periodic restoration of the pond environment which requires a lot of money.
"For mangrove planting, one of them is for environmentally friendly ponds. Where are the mangroves, if they are developed, one of its functions is to provide food for shrimp and fish. " Said Ramlan, Friday (2nd/4/2021)
According to Ramlan, slowly, pond fishermen in Muara Badak have begun to switch from an intensification pattern to an environmentally friendly pond. This pattern, although the results obtained are not as much as the intensification pattern, this environmentally friendly pond does not require a large amount of money. Fishermen can also save on additional budget for land improvement after harvest.
"Why do we give a method like this, this is an example for our group, when the water enters automatically the toxins and so on are absorbed by the mangrove roots. So that the water in it is neutral. So shrimp, fish and so on can have more sources of food. " He explained
In addition, Ramlan explained that this action was taken so that pond land management does not require chemicals. Up until now, he admitted that he had planted more than 7,500 mangrove trees.
Fishponds in Muara Badak, according to Ramlan, also try to remind other fishermen to protect the pond ecosystem. This effort is made so that the pond ecosystem in the Mahakam Delta area is still sustainable and well preserved.
"Awareness of protecting and caring for nature now starts showing some results. Now the ponds have become mangrove forests, whereas before this the area was just dry," He explained.
He hoped that this area at Muara Badak, Kutai Kartanegara, East Kalimantan would later become an educational tourism area. "Fishpond fishermen will build an integrated tourism area that utilizes mangrove forests and shrimp ponds," hoped this man. (*)
---
---
| | |
| --- | --- |
| Publisher | : Sofyan Saqi Futaki |
---