English
UIN Malang
Find dr. Tirta at a Talkshow by UIN Malang on April 2021
Sabtu, 13 Maret 2021 - 15:40 | 3.68k TIMESINDONESIA, MALANG – Kopma Padang Bulan of UIN Malang planned to hold a talkshow or seminar entitled Millennial Creativepreneur 2021. The talkshow will be attended by local influencers dr. Tirta and Mery Riana.
The talkshow was planned to be held by April 3, 2021at 08.00 a.m local western time. This talkshow will be conducted online through Zoom conferences.
Mery Riana is a successful young entrepreneur which more popular as one million dollar lady. Meanwhile dr. Tirta is the owner of Shoes and Care, a company which handle and take care shoes with premium service.
Beside those two, Reinukky, a successful young entrepreneur and the owner if Pesenkopi, a chain company in coffee vendors in Malang will also join the event.
FOR MORE INFORMATIONS ABOUT UIN MALANG PLEASE VISIT www.uin-malang.ac.id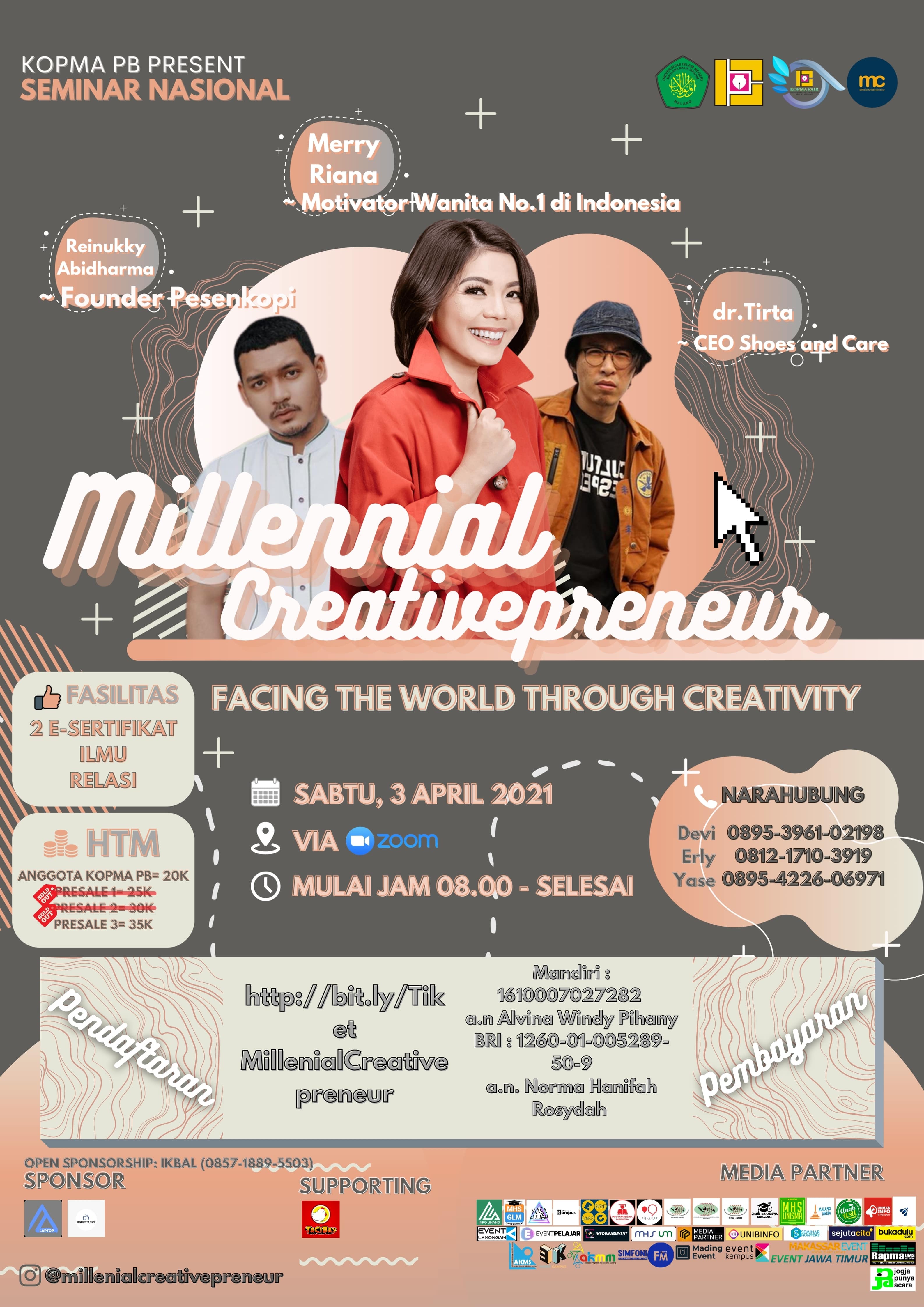 You could register yourself to join the talkshow on http://bit.ly/TiketMillenialCreativepreneur. You will need to pay for the admission fee for IDR 35 K. the registration will be closed by Friday (2/4/2021).
On the due date, you will be given a link and a password for your Zoom conference. "You could contact the management and certify that you have completed the payment," Devi Meylisa Andini, the Manager in charge of the talkshow.
During the talkshow, the participant will be taken to find some courage to start their business from an early age. The keynote speakers will give them some tips on how to start their business.
FOR MORE INFORMATIONS ABOUT UIN MALANG PLEASE VISIT www.uin-malang.ac.id
"We hope that the talkshow could help (UIN Malang) student cooperation to lite up during this pandemic. So it could create more entrepreneurs in the future," Devi ended. (*)
---
---
---