English
Two Javanese Bulls Released to Baluran National Park
Selasa, 08 September 2020 - 05:36 | 15.66k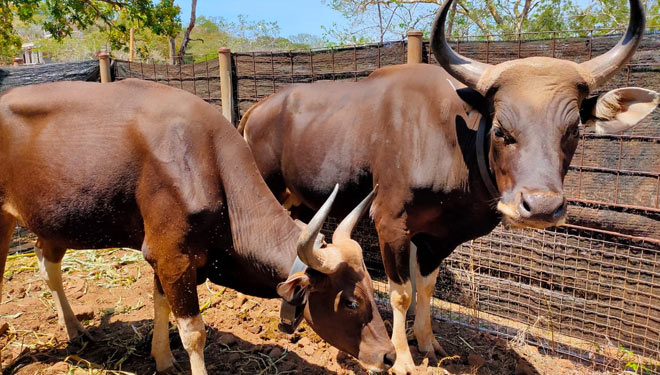 TIMESINDONESIA, BANYUWANGI – Two Javanese bulls are sent back to the wild at Baluran National Park, Banyuwangi, East Java on Thursday (3/9/2020). This is the first ever done by the government in conserving this endangered species.
Those two bulls named Patih and Tekad. Tekad is 6 and Patih is 4. Those are born in Suaka Satwa Banteng conservatory area at Baluran National Park. They were sent back to the wild to add the variety of species to the park other than those endemic species.
"There are only around 5000 species of Javanese bull left in the world. Fortunately the number of the species has been increased well from 44-51 species in 2015 to 124-140 in 2019," Wiratno the Director General of Natural Resources and Ecosystem Conservation said in statement.
There are several parks in Indonesia that has been used by this Javanese bull as conservatorium. Those are Baluran National Park, Alas Purwo National Park, Meru Betiti National Park, and Ujung Kulon National Park.
The Javanese bulls are equipped with GPS collar to ease the keeper to track them down and monitor their move. The keeper at Baluran National Park, Banyuwangi will also keep a close eye on them for the first three month after they were being released back to the wild. (*)
---
javanese bulls
baluran national park
banyuwangi
banyuwangi
---

KOMENTAR