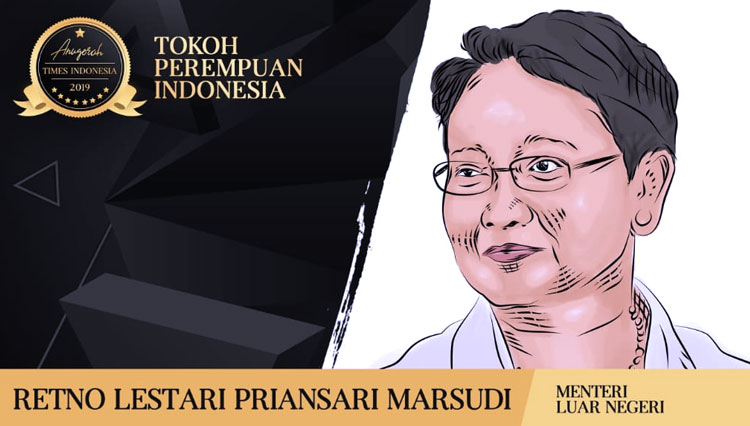 TIMESINDONESIA, JAKARTA – Times Indonesia Award 2019 team keep selecting for best figure to be awarded with certain categories they have. This time, Retno Lestari Priansari Marsudi (Retno Marsudi) was chosen to be the lucky person who achieves Women of The Year 2019 Award.
Retno Marsudi (that's they way people know her) was born on November 27th 1962. This lady is currently served as an Indonesian diplomat and the Minister for Foreign Affairs in the Working Cabinet.
She is the first female minister appointed to the post. She was previously the Indonesian Ambassador to the Netherlands from 2012 to 2014, as well as Ambassador to Iceland and Norway from 2005 to 2008.
During her career, she devotes herself for the country. She also has barely had negative rumors during her career in 2019. This what makes Times Indonesia put his choice on her.
Retno also has given a good record during her career as the Minister for Foreign Affairs. She also achieved several medal of honor such Agents of Change for Gender Equality and Women's Empowerment by the UN on 2017.
She was also granted with Grand Cross of the Order of the Sun of Peru in 2018. During her career, the Ministry of Foreign Affairs also received more appreciation towards their projects.
On 2019, under the ministry of foreign affairs Indonesia managed to be on Top 10 country who send their troop into a peace corps. She also managed to built two biosphere reservation centre in Central Sulawesi and one in Nusa Tenggara which was acknowledged to be the biggest biosphere conservation in the world.
The Ministry of Foreign Affairs also managed to export some of Indonesian vaccines and drugs to the foreign countries especially to several countries member of Islamic Cooperation Organization.
She also has achieved several success on another projects such as in migration management and putting the chief space research institute of Indonesia to sit on the First Vice Chair UN Committee on the Peaceful Uses of Outer Space (UNCOPUOS) 2018-2019's chair.
All this records make Retno Marsudi worth to be granted with Women of The Year Award at Times Indonesia Award 2019. (*)
---
---
---