English
Hotel and Residences Riverview Kuta-Bali Took the Kids to Create Their Own Bento
Kamis, 24 Oktober 2019 - 01:34 | 7.09k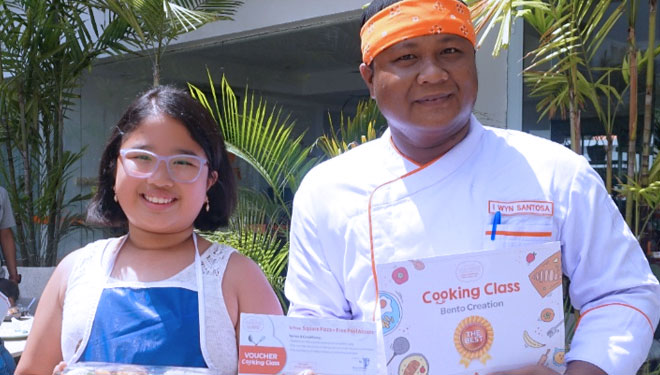 TIMESINDONESIA, DENPASAR – Hotel and Residences Riverview Kuta-Bali (Associated HARRIS), held a Junior Cooking Class: Bento Creation. This class was aimed to increase kids creativity in preparing their own school meal.
The event which was held on Saturday (19/10/2019), was followed by several kids from the local area nd some who happened to stay at the hotel with their family.
The kids were provided with an apron and a cook hat. The hotel even prepare the ingredients for them so they just only need to decorate it and follow the chef instructions. Some parents also spotted giving their kids some support on the occasion.
"This kind of activity could stimulate kids' cognitive abilities, as well to give the kids a new cooking experience in early age," The Food and Beverage Manager of Hotel and Residences Riverview Kuta-Bali, Bambang Hermanto said.
As the result, kids' focuses, creativity, motorist censor, their ability to associate, independence, emotion, self esteem and many more will be trained through this activity.
At the end of the day, the kids will be able to taste their very own bento creation after the cooking class over. The best bento creation were granted with some cute award form the Hotel and Residences Riverview Kuta-Bali. (*)
---
denpasar
Hotel and Residences Riverview Kuta
Bali
---
| | |
| --- | --- |
| Publisher | : Ahmad Rizki Mubarok |
| Sumber | : TIMES Bali |
Reaksi Anda
KOMENTAR