English
The Performances of Broke n Blues and Mr. D Entertained the Guests on TIMES Indonesia's 4th Anniversary
Sabtu, 17 Agustus 2019 - 03:53 | 8.67k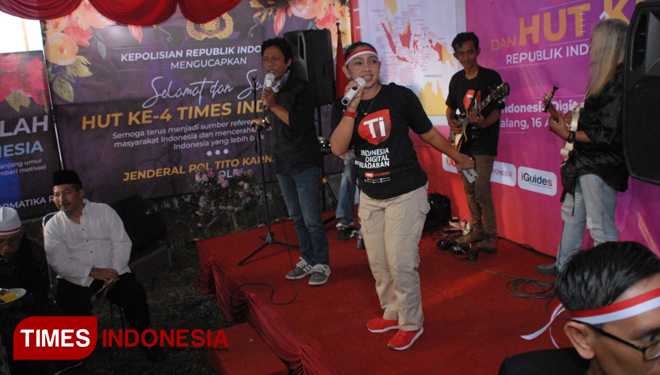 TIMESINDONESIA, MALANG – The celebration of TIMES Indonesia's 4th anniversary was enlivened by the mesmerizing performances of Broke n Blues and Doddy Hernanto, which is also known as Mr. D.
The performances entertained the guests in the office of TIMES Indonesia located in Jalan Pandan 5, Malang. The guests attending this event were the Chief of Police of Malang, AKBP Yade Setiawan Ujung, the Chief of Police of Malang Kota, AKBP Asfuri, the Rector of UNISMA, Prof. Dr. Maskuri, and the heads of various institutes.
The performance of Broke and Blue ft. Mr. D became the opening performance during the coffee break. It was led by Popo, the band which consists of four members, namely Guntje, Denny, Koko, and Moko. They sang six songs.
Not only enjoying the blues songs, the guests were also enjoying the display of the longest e-newspaper in the world, which is 74 meter in length.
Flower bouquets and banners from various parties also enlivened this anniversary celebration. They were from the President of Indonesia, Joko Widodo, the Vice President of Indonesia, KH Ma'ruf Amin, the Commander of Indonesian National Armed Forces (TNI), Marshal Hadi Tjahjanto, the Ministry of Religion, Lukman Hakim Saifuddin and other public figures.
This anniversary celebration brought the theme of Indonesia Digital Berkeadaban (Civilized Digital Media of Indonesia). This celebration will be continued on Sunday (18/08/2019) in the Car Free Day area in Jalan Ijen, Malang, by holding a parade of the longest e-newspaper in the world. (*)
---
TIMES Indonesia
Mr D
Indonesia Digital Berkeadaban
HUT ke 4 TIMES Indonesia
---
Reaksi Anda
KOMENTAR