English
Kulfi, Authentic Indian Traditional Ice Cream at Indian Resto
Minggu, 14 Juli 2019 - 02:23 | 73.37k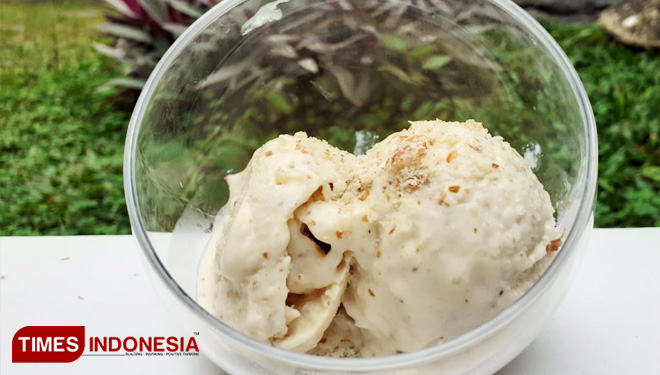 TIMESINDONESIA, MAL:ANG – Not only serving Indian foods, Indian Resto also serves Indian traditional ice cream. Kulfi is authentic Indian traditional ice cream that has special texture.
This ice cream is made of cow's milk, sugar, cashews, almond, and pistachio. This ice cream does not contain any chemical additives, such as food coloring, flavoring substance, sweetener, and so on.
Fadiyah Safitri, the owner of Indian Resto, said that this menu is made to fulfill the customers' request. Not only Kulfi, there are still so many various menu in this restaurant.
"Malang is the city of tourism and culinary. We want to serve the best things to our customers, including the tourists that are in a vacation to Malang," she said.
This Indian restaurant also serves various dishes, such as gulab jamun, kheer, seekh kabab, chicken tikka, chicken tandoori, paratha roll, samosa, Maryam bread, beef salad, daal, chana caat, and biryani.
Biryani is Pakistan or Indian dish that has a stronger taste of herbs. This dish is usually served in big events, such as wedding party or feast days.
Gulab jamun, a milk-based dessert, a popular food throughout Southeast Asia, such as India, Sri Lanka, Nepal, Pakistan, and Bangladesh. Gulab jamun is made of milk, fried and soaked in sugar syrup and green cardamom powder.
Supported by online delivery via Go Food and Grab Food, this restaurant is crowded with hundreds visitors. You can pay by cash, OVO, or credit card.
The prices are affordable. Kulfi shake only costs IDR 17,000.
Indian Resto opens from 11 a.m. to 10 p.m. It was established in April 2018. Let's try this Kulfi at Indian Resto. Do not forget to take your family and friends! For further information and online reservation, please contact 085646000445 or visit their official website on indianresto.id or Instagram @indian.resto. (*)
---
Kulfi
es krim
Indian Resto
---
| | |
| --- | --- |
| Publisher | : Lucky Setyo Hendrawan |

KOMENTAR