English
When a Germany Spoke a very Fluent Bahasa in Berlin
Jumat, 14 Juni 2019 - 03:20 | 28.69k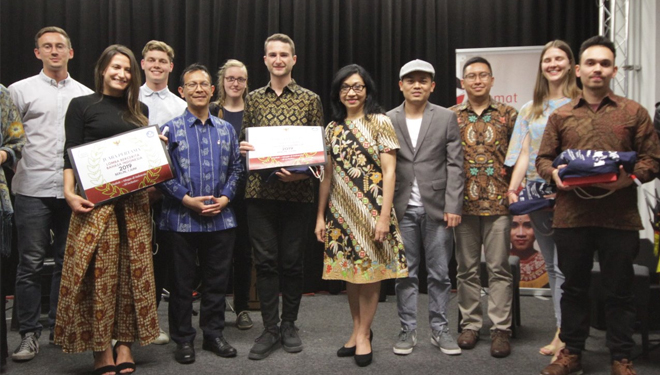 TIMESINDONESIA, BERLIN – The beauty of Bengawan Solo and Bandar Jakarta enliven the Haus der Indonesischen Kulturen (The House of Indonesian Culture) in Berlin, Germany. At the same place and occasion there were also also speech competition and story telling in Bahasa or Bercerita Bahasa Indonesia bagi Penutur Asing (LBB BIPA).
"LBB BIPA is an annual program which is conducted in 21 Indonesian embassy in the whole world including the Indonesian Embassy for Germany in Berlin," Dr. Ahmad Saufi the Education and Cukture Attache said.
At this occasion, the topic chosen for speech competition was about tolerance. Meanwhile, the story telling was limited on some circumstances like the cultural understanding on some Indonesian folklore which known with it local wisdom.
Olivia Morawiec a telling story contestant delivered the shallot and onion story (Bawang Merah dan Bawang putih) and bring up the tolerance between the family members as her main topic. Meanwhile, Leonie Kress admiring the inter-religious harmony that she saw in Indonesia. They both and likely all the contestant delivered their speech and story in a very fluent way of speaking Bahasa.
All participants were so enthusiastic to wait for their turn.The winner of story telling and speech competition in Bahasa in Berlin Germany will be flewn to Indonesia for some tour on August. They will attending the international round conpetition and will be invited to attend the Indonesian Independence Day Ceremony. (*)
---
berlin
Bahasa
Berlin
Germany
---
| | |
| --- | --- |
| Publisher | : Sofyan Saqi Futaki |
Reaksi Anda
KOMENTAR