TIMESINDONESIA, DENPASAR – Afraid of getting sunburn during uour vacation in Bali? You don't need to be worry about it again, Miracle Aesthetic Clinic could take care of ur skin from any skin problems including sunburn. Rhis clinic also manage to get 5 stars rating from iGuides TIMES Indonesia and indexed on IRX (Indonesian Recommendation Index).
Located at Jalan Letda Tantular No.47A Renon Denpasar, this clinic offers you various skin treatments like facial, rejuvenation, acne problems, even some face shaping.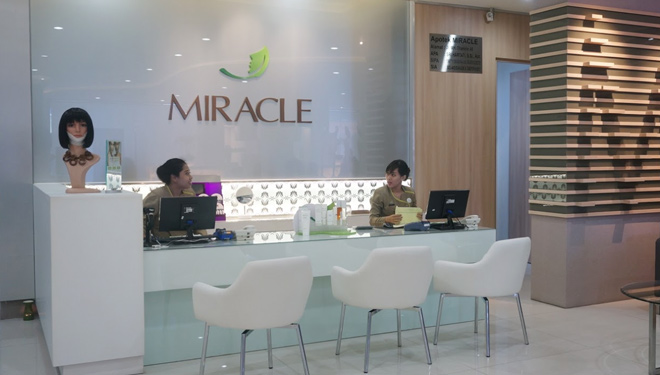 (PHOTO: Exlusive)
"Miracle has an innovative methods in dealing with skin problems like multi cream for special purpose, medical treatment, and professional and experienced staffs on their field," Ye Rahma an iGuides' reviewer team said.
Chrysan Weking and Mariana Sofa said through Google Local Guide that they are so pleased to the result they got after using the products and won't be able to find another clinic like this.
A Miracle Aesthetic Clinic Facebook Fanpage Sri Turbant also said her satisfaction toward this clinic.
"The staffs are super friendly, and professionally helps us with a good care. It's a very clean clinic. Huge parking lot and the most important thing is all of the customers are equally treated. I'm definitely will go back to this clinic again," she said.
Nancy Subawa from Foursquare said that the doctors and staffs are the best she could ever have while giving 5 stars on her review.
In addition, according to Dewa Gadithya, a regular customers said that this clinic is the best Aesthetic Clinic in Indonesia.
21 years of experience and sophisticated technology has made Miracke Aesthetic Clinic worth 5 stars rating from iGuides TIMES Indonesia and indexed on Indonesian Recommendation Index (IRX). Congratulation!! (*)
---
denpasar
News Map
Miracle Aesthetic Clinic
iGuides
Times Indonesia
IRX
---
| | |
| --- | --- |
| Publisher | : Lucky Setyo Hendrawan |
Reaksi Anda
KOMENTAR