English
iGuides: Berry Biz Hotel Deserves 5 Stars for its Excellent Customer Satisfaction
Selasa, 30 Oktober 2018 - 01:21 | 25.18k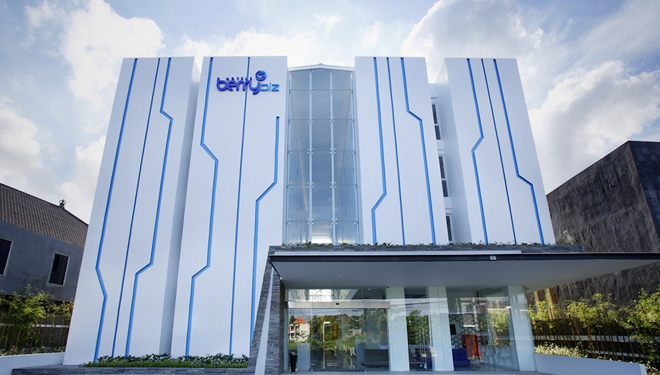 TIMESINDONESIA, DENPASAR – Not only becoming a tourism destination, Bali also becomes a business and job destination. In Bali, there is Berry Biz Hotel that has the concept of business hotel, "The First Creative Business Hotel in Bali". The hotel located in Jalan Sunset Road 99, Kuta, Bali, has a unique and interesting appearance. According to the review from iGuides TIMES Indonesia, this hotel deserves to be listed in Indonesia's Recommendation Index (IRX) with five stars.
Every spot in the rooms at Berry Biz Hotel has a modern, elegant, and comfortable design. When you get into the room, you can find many motivational quotes from famous people, such as Dahlan Iskan, Hermawan Kertajaya, Anita Roddick (the Founder of The Body Shop), Warren Buffet, and Steve Jobs.
iGuides reviewer is affiliated with the platforms that provide real reviews, such as TripAdvisor, iGuides, Agoda, Pegi Pegi, Traveloka, Booking.com, Foursquare, and Google Local Guide.
Those reviews become the guide for iGuides to list this hotel into Indonesia's Recommendation Index (IRX) in iGuides TIMES.
Each room is equipped with glass board, desk lamp, and fast Wi-Fi. Hanging out at Brown & Butter Café and Co-working Space available in the lobby area is also very fun.
For the Suite Rooms, the rooms are big and there is a big couch next to the working desk. It is suitable for relaxing and holding a small meeting with your working team.
Not only iGuides that gave a good review from Berry Biz Hotel. Let's see the review from a user of TripAdvisor, 78hana, who was satisfied with the service of this hotel.
"I stayed for three nights here. I only chose room only, but when I checked in, I was offered a breakfast with affordable price. All the staffs are friendly and helpful. The rooms is big and good. I will stay here again when I go to Bali," he wrote.
Gita F. gave an excellent review via Traveloka, along with the other 3,899 reviewers.
"This hotel is really perfect for me. I got a suite room with a working desk and a guest room. It was a nice stay! The room was very clean and good. The staff is friendly. The breakfast was really delicious. The location is strategic. I like it," she wrote.
Via Agoda, Rusdie, along with the other 233 reviewers, proved that Berry Biz Hotel has the best service.
"I stayed for three days for business, and it was satisfying. I will definitely come back and recommend this hotel to my colleagues and family," he wrote.
"The hotel is not too different from the photo in the internet, so the guests will not be disappointed. The hotel was good and clean, simple but comfortable, cheap but satisfying. The room is big, very suitable to stay with friends. The facilities were complete and the staffs were friendly. Definitely will recommend this hotel for those who are going to Bali anytime soon!" reviewed Inge Mustika Prilia via Pegi Pegi, who was satisfied with the service of the hotel.
No wonders why Yunita Novalia, a Local Guide Google gave five stars to Berry Biz Hotel.
"Cozy hotel with low budget. Creative design," she wrote shortly.
Don't hesitate to stay at Berry Biz Hotel in your business trip. The uniqueness and the customer satisfaction make Berry Biz Hotel deserve to get five stars in Indonesia's Recommendation Index (IRX) from iGuides. Congratulations! (*)
---
---
---