English
These are the Points Taken from Halal 20 Resolutions
Minggu, 20 November 2022 - 12:42 |
30.17k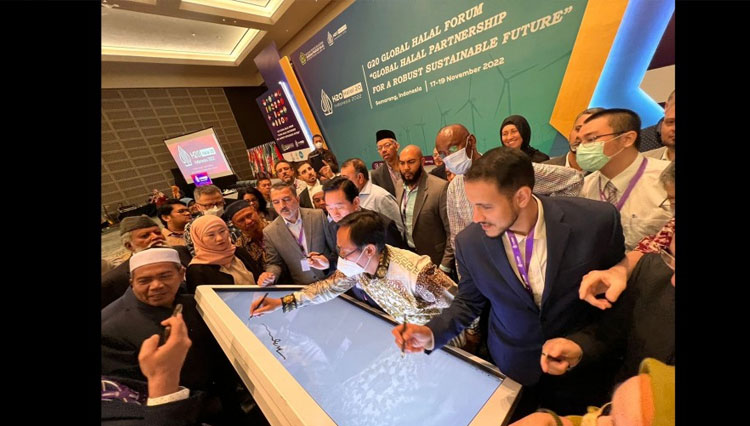 TIMESINDONESIA, SEMARANG – The Halal 20 Forum (H20) of the Halal Product Assurance Organizing Agency (BPJPH) of the Ministry of Religion (Kemenag) has ended. The forum that is part of the Indonesia G20 Presidency has successfully produced H20 Semarang Communique.
The delegates of the Halal 20 Forum (H20) has agreed on four frameworks and five points of agreement on the development of the halal ecosystem. "H20 participants agreed on four frameworks and five points of the mutual agreement contained in this H20 Semarang Communique," Head of BPJPH M. Aqil Irham said, in Semarang, Saturday (11/19/2022) night.
"H20 Semarang Communique contains a framework and agreement as a common reference in the development of the global halal ecosystem," he added.
Aqil said that H20 has been held for three days from November 17 to 19, 2022. A total of 279 participants attended, consisting of 99 international delegates, most halal institutions in the world, as well as 10 representatives from the Embassies of Chile, the United States, Belgium, Denmark, the European Union, New Zealand, Italy, Ukraine, Malaysia, and Canada.
H20 Semarang Communique was signed by leaders or representatives of all institutions participating in the H20 forum. Meanwhile, the communiqué was achieved after the forum held a discussion on the theme "Global Halal Partnership for a Robust Sustainable Future" for three days.
On the other hand, The H20 forum initiative for the first time by BPJPH which was motivated by a great spirit to encourage global economic recovery through the development of halal products.
"The H20 Forum ensures that all parties need to maximize the potential that has not been utilized before, including the halal industry. This niche sector has so many opportunities, especially since halal has evolved into a global lifestyle. The halal industry should be an ecosystem that contributes significantly considering its broad market and promising value," said Aqil Irham who is also the Secretary General of PP GP Ansor, The era of the general chairman of Nusron Wahid.
H20 Semarang Communique contains a four-point framework or four frameworks for the development of a global halal ecosystem, as follows:
1). Halal needs to be viewed through a philosophical and sociological perspective.
2). Halal needs to be viewed from an economic perspective.
3). Halal needs to be viewed through the perspective of digital transformation.
4). Halal needs to be seen through the perspective of prosperity and rahmah.
In addition, H20 Semarang Communique also contains five points of commitment or five mutual agreements, namely:
1. We recognize and recognize diverse perspectives related to halal standards. Therefore, we are committed to striving for the conformity of halal standards to one another.
2. We are committed to promoting and championing the Halal Standard, especially the values contained in it in a massive and structured manner so that it can become one of the main global standards.
3. We are committed to urging, encouraging, developing, and maintaining a strong commitment to global halal partnerships for all and a sustainable future.
4. We are committed to following up on this forum by continuing to build productive communication and implementing various joint agendas such as knowledge sharing, mutual learning, research, and joint technology development.
5. We are committed to encouraging the birth of a global halal platform based on advanced digital technology that is transparent, reliable, and traceable as a forum, aggregator, or common hub for many halal platforms in various countries.
"Hopefully, efforts to develop a halal ecosystem will contribute to improving the welfare and prosperity of our country and people," said Aqil.
Closing the H20 activity, Deputy Minister of Religious Affairs Zainut Tauhid Sa'adi also expressed his appreciation to BPJPH. He said that even though the age is relatively young, BPJPH has done great work. Including the H20 international activity which carries the theme "Global Halal Partnership for a Robust Sustainable Future".
"We continue to support BPJPH in its efforts to build strong partnerships and collaborations with all parties to encourage the rise of the global halal industry," Zainut Tauhid noted.
Nonetheless, Indonesia itself is committed to taking a big role in the global market, by having competitiveness and excellence so that Indonesia can contribute greatly to building the world's halal ecosystem sustainably, and now is the right time to build a global halal partnership for a strong and sustainable future.
"Hopefully, this Halal 20 Forum event can contribute to mutual benefit. I hope we all have a strong commitment to continue this good partnership. Because it is halal for all, for humanity, and mankind,"Zainut Tauhid told in the forum. This forum presents H20 Semarang Communique. (*)
**) Ikuti berita terbaru TIMES Indonesia di Google News klik link ini dan jangan lupa di follow.
---
---
---