English
G20 Indonesia
Take a Look Closer to Batik Bomba of Elon Musk on G20 Indonesia
Senin, 14 November 2022 - 18:26 |
14.89k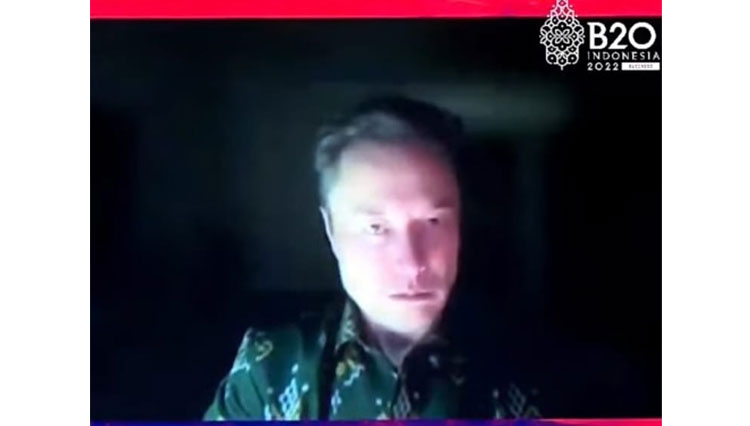 TIMESINDONESIA, BALI – Elon Musk appearance has been awaited by people around the world especially all the delegations of B20 of G20 Indonesia. During her virtual appearance, the CEO of Twitter wear a special Batik of Palu, Central Sulawesi namely known as Batik Bomba.
Batik Bomba has been a icon in this biggest nickel production city of the country. You could find it in almost every souvenir shops or clothing stores.
This kind of batik was used by the local in formal occasion such as meeting, gathering, wedding party and more. It was such a pride for the locals to wear these batik which has such an exotic pattern on it.
Bomba in the local language literally means as togetherness. It comes in different colors and pattern yet each of them gives a such a sense of harmony.
The colors varies from dark to bright one. Elon Musk on G20 happened to wear the dark green one with brighter green tint on the pattern. Meanwhile Anindya Bakrie wore a lime green with the same pattern as Elon has on his batik.
The pattern drew on batik Bomba was also quite exotics. Each of the line has a meaning and symbolize something. Some pattern called as Sambulugana, Souraja (the traditional house of Palu), tai ganja, Maleo bird, local flowers, ventilation, and Kaili traditional house.
There are not much people producing this kind of batik due to the decrease in demand lately especially during the pandemic. But there are still some people producing these batik to conserve the local culture and wisdom.
However as the modern day goes, you could have it in the local marketplace with such an affordable price for such a beauty. At the market place Batik Bomba's price range from IDR 180 K or around $15 to millions rupiah depending on the quality and the fabric.
That's in form a sheet of fabric, the price will be different when you have it sewed and stitches. Of course it will be higher. Anyhow, Elon Musk looks so mouthwatering when he wore Batik Bomba on G20 Indonesia. And you could create your own good looking look as well with it.
**) Ikuti berita terbaru TIMES Indonesia di Google News klik link ini dan jangan lupa di follow.
---
---
---