English
Licin Beach Lebakharjo, the Hidden Jade Malang
Senin, 07 November 2022 - 02:29 |
20.51k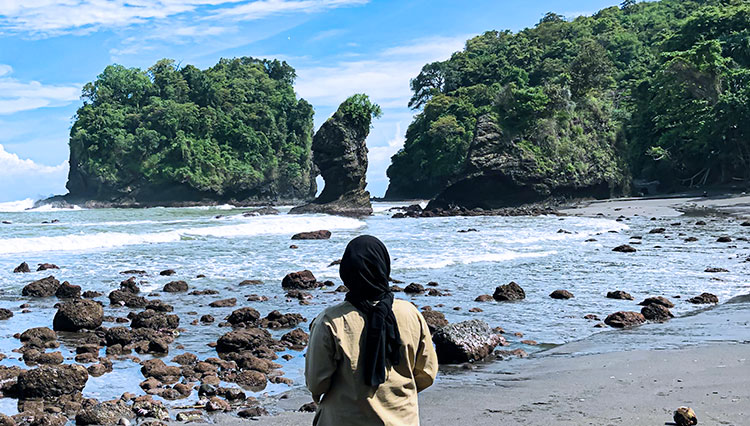 TIMESINDONESIA, MALANG – Malang, East Java has been known to have such stunning natural view either from mountains, forests, beaches and more. And one place that should be listed on your itinerary will be Licin Beach.
Located at Lebakharjo, Ampelgading, Malang, East Java this beach will be a suitable place to be one of your destination to spend your weekend with your family. it will give you such a new experience and new view which couldn't be found anywhere else.
It is situated at the east side of Java island. As you all know, the Southern Ocean of Java have been well known to its medium wave. Not only the wave, Licin beach has such a stunning view of small islands laid far ahead on the ocean.
There around 5 small islands laid a little bit far from the shore. you would not be able to reach without some help of local boat. However, these islands are inhabitable. So you will only be able to spin the boat next to the island.
But some are close enough to the beach and you could reach it when the water level is receding. Just make sure you have parental unit or a local guide to go to.
The beach also covered with black sands like the jade which make it look more astonishing. You will not find this kind of sand anywhere else around Malang which make this beach more special.
The black sand was sent from volcanic eruption of Mount Semeru back then. It is quite soft so you wouldn't need to wear any slippers to walk on it.
The name Licin which means slippery was taken back in 60's when most of the land rea around the beach was covered with moss. It made the beach cannot be accessed easily. And since then they name it after the slippery way they had to reach the beach.
The beach was opened for public not long ago. It can't be denied that there were not much people coming to the beach for not much people known this beach. However, the local community will welcome you with an open hand whenever you wanted to visit this place.
This beach will be such a perfect place to reel your rod. If you loved to fishing then this place will be a perfect place to go. The local also use the area around for fishing. You will be able to watch their boat sailing not far from the beach and spread their net.
Some visitor will tend to choose to pitch their tend and spend the night while enjoying the calming sound of wave. Some will do a small barbecue party with the fish they caught on the shore.
If you wanted a bigger fish then you could visit the local fish auction located not far away from the beach then bring it to your venue and make some barbecue with your family.
In the early evenin when the sun started to set, you will be pampered with the beauty golden glow twilight setting in the West. you could watch this natural phenomenon along with playing on the shore and catch some trapped small fish in the area.
To enjoy the beauty you will not spend any cost for it's fere. You will just need to pay for IDR 5-10 K to park your vehicle at the parking lot. You will also find a small food shop nearby which provided by the local community to fill your belly.
Licin Beach of Lebakharjo Malang will surely give you such nice experience to hove during weekend. This will also be a perfect moment to get close with your loved ones and enjoy the nature.(*)
**) Ikuti berita terbaru TIMES Indonesia di Google News klik link ini dan jangan lupa di follow.
---
---
---