English
G20 Indonesia
The Chairman of PBNU: Welcome to Bali, an Island Full of Diversity
Rabu, 02 November 2022 - 16:41 |
16.88k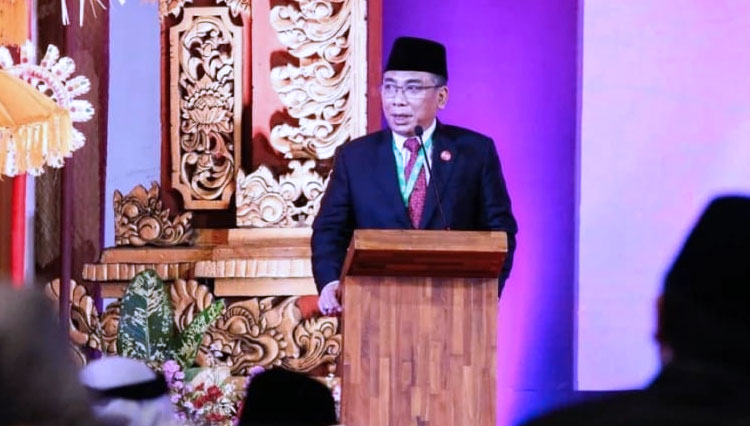 TIMESINDONESIA, BALI – The Chairman of PBNU Yahya Cholil Staquf conveyed his welcome to all participants of the G20 Religious Forum (Forum R20) or as known as R20 (Religion of Twenty).
"On behalf of the Indonesian community, on behalf of Nahdlatul Ulama, on behalf of the Center for Shared Civilization Values (CSCV), I welcome you to Bali, Indonesia," he said while delivering his opening remarks for the R20 forum at the Grand Hyatt Hotel, Nusa Dua, Regency Badung Bali, Wednesday (2/11/2022).
Gus Yahya also greet their coming to Bali, a Hindu land, and welcomes to Indonesia, a Muslim-majority country.
"Welcome to Bali, a Hindu land that allows a performance of Acehnese Muslim Cultural permonce on this glorious stage," he said in front of hundreds of religious leaders, sects, and beliefs from various countries around the world.
Previously, the Saman dance from Aceh welcomed all guests. Twenty young women looked stunning on the main stage of the R20 forum presenting the dance.
"Welcome to Bali, a land of Hindus who have allowed NU, the largest Muslim organization, and the World Muslim League, the most important organization in the Islamic world, to carry out the initiative here on the island, with all religious leaders gathered from all over the world." Gus Yahya said.
The grandson of KH Bisri Musthofa of Rembang, a religious public figure in the coountry also stated his greeting to the participants and welcome them with an open hand. He also explained that Indonesia is a country with a majority of Muslim population who allows Bali to continue to preserve its unique Hindu traditions and culture.
Gus Yahya also said that the G20 or R20 Religious Forum is a sincere initiative and good spiritual will from religious people from a more sincere concern from all religious adherents about the future of humankind.
"We hope that this initiative will provide an honorable and significant place in global dynamics for humanity's struggle to find solutions to various problems in global dynamics," said the Raudlatut Thalibin Islamic Boarding School Caretaker, Leteh, Rembang, Central Java, who is also the initiator of the R20 forum.
On behalf of NU, Gus Yahya expressed his gratitude to the Muslim World League (MWL), particularly Sheikh Mohammed Al-Issa, for his willingness to work with NU to become a partner in organizing this forum.
The son of KH Cholil Bisri Rembang closed his speech by expressing the hope that Allah SWT will always provide guidance and help in building positive contributions for humankind.
"May God bless, guide, and always help us to enliven Forum R20 events and join in contributing positively to development for humankind," KH Yahya Cholil Staquf as the Chairman of PBNU stated his expectation. (*)
**) Ikuti berita terbaru TIMES Indonesia di Google News klik link ini dan jangan lupa di follow.
---
---
---