English
Opening R20 Forum, Jokowi Introduces Pancasila and Bhinneka Tunggal Ika
Rabu, 02 November 2022 - 15:31 |
11.32k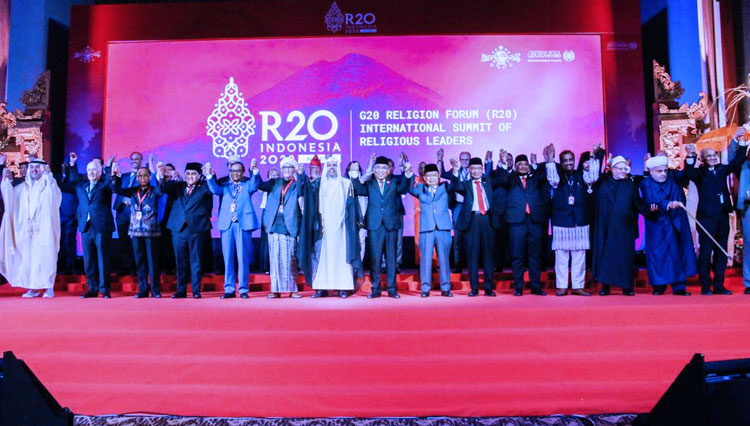 TIMESINDONESIA, JAKARTA – President Joko Widodo (Jokowi) introduces the ideology of Pancasila as the national principle and Bhinneka Tunggal Ika as official national motto of Indonesia to the attendance of Religion of Twenty (R20) Forum opening ceremony. This event was held in Grand Hyatt Hotel, Nusa Dua, Bali, Wednesday (2/11/2022).
Jokowi started his speech by greeting all the delegation who participate in the event. He also explain about the condition of the country which consists 17,000 islands with 3 different time zones.
In his welcome speech, President Jokowi said that Indonesia is a diverse country in terms of ethnicity, language and religion. However, Indonesia is united by the Pancasila with its 5 verses. Indonesia is also united by the tolerance and communion of Bhinneka Tunggal Ika, which means Unity in Diversity.
Even the existence of different religious figures is also an essential part in uniting Indonesia.
"Different religious figures have become the major part of Indonesia's independence struggle. The different religious figures have also become an important part to unite Indonesia. Even the different religious figures are also an important part of the success of the Indonesian government's development program," said Jokowi.
Jokowi also emphasized that Indonesia's current success including in handling COVID-19 was also due to the contribution of religious figures.
"Mosque, churches, temples, monasteries, and pagodas have become the centers of public literacy in various fields, mutual cooperation, cross-religious figures are also the pride of Indonesia," Jokowi continued.
The very important things, said Jokowi, the religious figures should work together to increase the contribution of religions in solving world problems.
"What is also very important is that we are the religious leaders from various religion and from various religions must work together to increase the contribution of religions in solving world problems, to reduce rivalry and stop wars for the sake of a peaceful world, a united world and works together to pass on goodness to future generations," said Jokowi.
"Welcome to the R20 conference. We wish you success in building the understanding and agreement as well as agreeing on concrete steps so that the religion can make a greater contribution to civilization and humanity for a happier world," concluded Jokowi. (*)
**) Ikuti berita terbaru TIMES Indonesia di Google News klik link ini dan jangan lupa di follow.
---
---
---